2nd Smart Building Expo Osaka 2018

Uprtek, the most professional guide in optical industry, is the pioneer of handheld spectrometer. We specialize in LED measurement analysis and research. At the same time, we fully master the LED optical core technology and are familiar with the measurement applications of various markets. Therefore, UPRtek provides the most intuitive and simple operation tools with accurate results and application recommendations to users. Because of our great effort, UPRtek handheld spectrometers are affirmed from the third organization and have our own international awards such as Red Dot Design Award, IES North American IES Progress Report and Taiwan Excellence Award. For the commercial lighting measurement requirements, UPRtek developed the industrial measurement specialist device-MK350N Premium handheld spectrometer. There are 3 major features we would like to share to you. Firstly, with more than 40 kinds of built-in light source measurement parameters , users can customize their own measuring list. Secondly, the embedded IEEE1789-2015 Flicker point analysis figure assists users to verify the risk level of the target light source. Lastly, Lastly, it has a flexible multi-functional measurement method (standalone, APP wireless remote control, post-PC analysis and so on).
This time, UPRtek will cooperate with Japan partner-Beamtec at 2nd Smart Building Expo Osaka. We will be promoting the LED measuring leader-MK350N Premium as well as share the optical instrument application and its new trends. We hope to see you in our booth and experience the fantastic tour.
■About Beamtec:
It focuses on application and development of LED advanced technology. Also, we provide a variety of best LED products to industry and industrial users.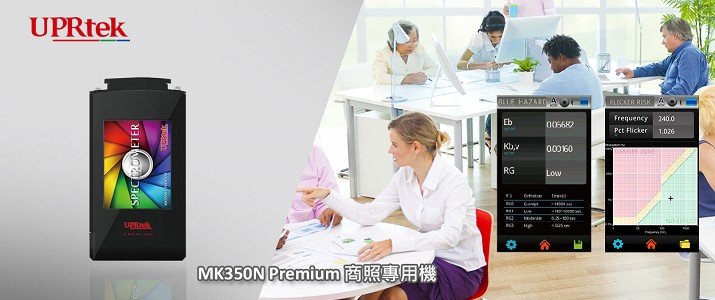 ■ Exhibition Information
2nd Smart Building Expo Osaka
Date:Sep,26th(Wed)~28th(Fri),2018
Venue: INTEX OSAKA, Japan
Booth Number: 1-51
Exhibition Website:http://www.wsew.jp/en/To-Visit-Osaka/Venue-Info-Access/
Exhibitor Website: http://beamtec.co.jp/ or https://item.rakuten.co.jp/beamtec/mk350npremium/

MK350N Premium
MK350N Premium is a Spectrum Analyzer, LED Meter and Flicker Meter for LED manufacture. Embedded with spectral technology and optimize the LUX measuring range. Overall, the measuring
UPRtek Spectrometer-MK350N Premium Firmware Updated:Version 1.1.1.B4 UPRtek the pioneer handheld spectrometers supplier for lighting industrial, announced a new Firmware Update Version 1.1.1.B4 for MK350N Premium spectrometer. The difference from previous version are as below: NEW: Add Flicker...
read more