UPRtek Agent-Kyokko Joins InterOpto 2018

UPRtek and Kyokko Trading Co., Ltd, a famous optical equipment manufacturer from Japan, are partners in promoting MK350 Series handheld Spectrometer in the InterOpto 2018. We will present the latest products and technology. Welcome to visit us and explore the fantastic journey.
"MK350S Premium" Handheld Spectrometer
It is a high-end model of MK350 series of spectrometers with its intelligent appearance with 4.3" color touch screen, users can operate the UI intuitively and customize the light source measurement as a master menu. MK350S Premium combines the Integrating Sphere, Oscilloscope, Photometer and Quantum PAR Meter in one device. The strong and various functions can make users task efficiently done. MK350S Premium embedded the latest Flicker Risk Mode which makes it better than its previous model MK350S Advanced Spectrometer.
(1) IEEE PAR 1789-2015 flicker safety regulation and built in point analysis figure- This service will provide users more objective and simpler evaluation of the risk value of the "light source target".
(2) IEC 62778 Blue Light Hazard Metric-Users can assess the potential blue light hazard through LED BLH Risk Group (RG0, RG1, RG2, RG3) efficiently.
"MK350N Premium" Handheld Spectrometer
It is a industrial LED Measuring handheld spectrometer.There are 3 major features we would like to share to you. Firstly, with more than 40 kinds of built-in light source measurement parameters , users can customize their own measuring list. Secondly, the embedded IEEE1789-2015 Flicker point analysis figure assists users to verify the risk level of the target light source. Lastly, Lastly, it has a flexible multi-functional measurement method (standalone, APP wireless remote control, post-PC analysis and so on).
■About Kyokko Trading Co., Ltd:
With ISO/IEC17025 certified Optical Test and Calibration Laboratory, Kyokko trading is well known and trustworthy leading company at the industry.As a professional solution providers, Kyokko Trading provides industry-standard luminance meters, spectral radiometers, various optical measuring instruments, physics and chemistry equipment, sales of communication equipment, and optical measurement services.
■Exhibition information:


Date & Time:Oct 17(Wed)~19th(Fri), 2018,10:00-17:00
Venue:Makuhari Messe (Route: http://www.m-messe.co.jp/en/access/)
Booth No.:21-T
Exhibition Website:http://opto2018.jcdbizmatch.jp/Detail/jp?val=BR1-nQEoHP7-aKDXAQukhA
Exhibitor Website:http://www.kyokko.com/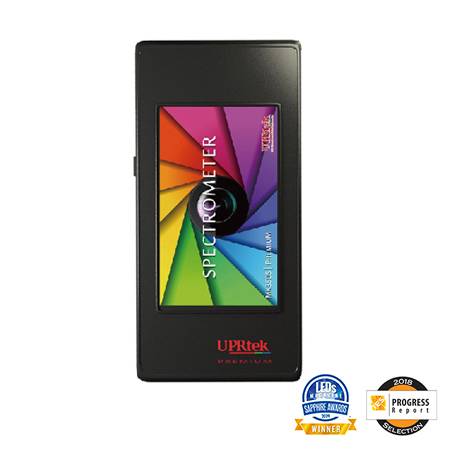 MK350S Premium
MK350S Premium is a Handheld Spectrometer with Muli-Functions in itself. It's not only a Spectrometer, but also can be a Quantum PAR Meter, Blue light Detector and Oscilloscope. The
MK350N Premium
MK350N Premium is a Spectrum Analyzer, LED Meter and Flicker Meter for LED manufacture. Embedded with spectral technology and optimize the LUX measuring range. Overall, the measuring
Due to the rise mobile devices, the performance of various displays such as LCD, LED, OLED and HDR ... has become an important indicator of product evaluation in the industry. In order to meet the high demand for color detection, UPRtek officially launched Handheld Luminance Meter - MK550T handheld luminance meter and MD100N luminance meter in 2018.
read more