WHAT IS LED CRI (COLOR RENDERING INDEX)?
Light Color
Color Rendering Index (CRI) is the degree of color perception by the naked human eye under two light sources:light source and sunlight. If the color performance of you artificial light source is close to that of sunlight, the color perceived by the human eye becomes closer to being real which is called " Color Fidelity".UPRtek handheld spectrometer series all provide the color evaluation function -CRI. The UI is intuitive and simple to make your lighting analysis more efficient. It is recommended to lighting manufacturers, academic researchers and lighting designers. For example, if broadcast lighting CRI value is more than 95 grade, we think this light is excellent. Howver, following the technological innovation, people are more strict on color quality requirement and the CRI index still remains the color perception problem. Please refer to the further explanation below: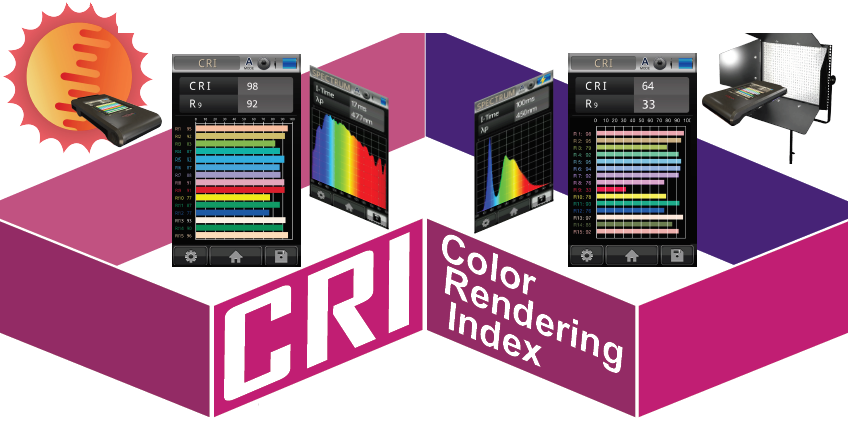 CRI (Color Rendering Index) is calculating the average from R1 to R8
As you know, adopting the average of CRI can make be misleading – Why two lights have the same color display while having different CRI value? In our hypothetical example below,the apple appears very different depending on what light is shining on which side. However, the CRI values are both the same. Because of that, the individual sample reference data that make up the CRI (R1 to R8) are also usually supplied. R1 to R8 (bar charts above) would be the original 8 sample colors included in CRI, each in its own, an index for that color, also ranging from 0-100. R9-R15 is an additional six sample colors that were added later on for more saturated colors.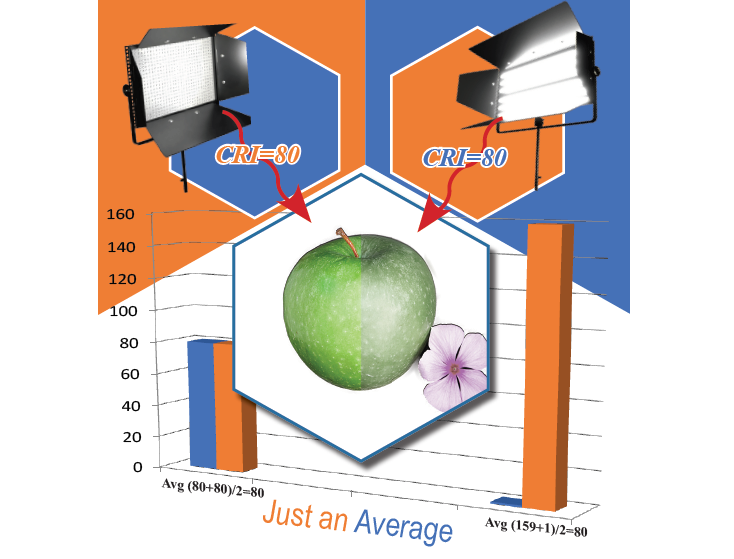 CRI uses Desaturated Colors and a Small Sample Size
The other knock on CRI, otherwise known as Ra, is that the sample size for CRI has only eight samples (R1-R8), a very small sample size for measuring an entire spectrum of color. R1-R8 contain mostly desaturated, pastel colors only useful for industries such as architecture (e.g. concrete walls) and textiles (cloth). CIE did add an additional 6 saturated color samples and attempted to establish a new CRI called R96, but because of lack of consensus, it has never been released. CRI has its limitations, something which CIE has even acknowledged. Even after decades of attempting to rectify its deficiencies, the task remained difficult to resolve.

The importance of R9
Of those additional six sample colors, the most important for cinema/film lighting would be R9, whose color index is said to be most important when considering skin color rendering. In other words, a light with an R9 value of 95 or higher would be able to render skin colors more realistically or accurately. You can see in the bar charts below that show each sampled colors. The R9 value for the LED is noticeably lower.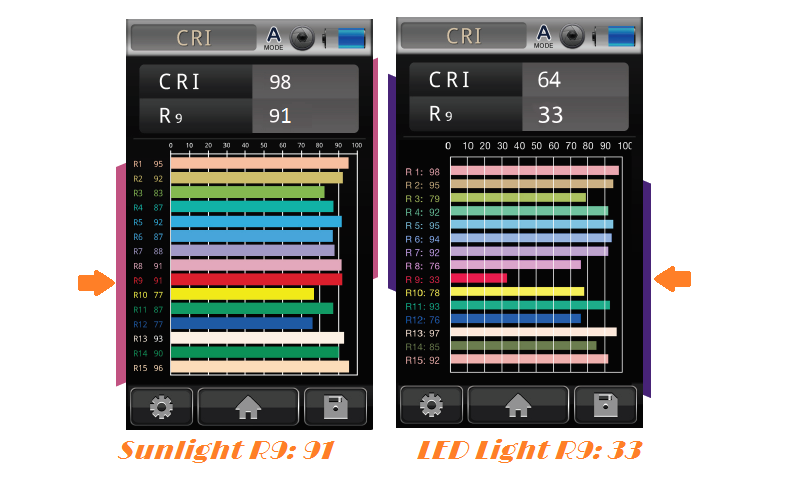 Other Color Rendering Metrics
Since the use of Color Rendering Index has been used for a long time, many industries are still accustomed to using it until now. However, after the color rendering index there are many different color rendering metrics had been released, such as CQS, GAI and T30-15…etc. We will make further introductions in other sections.
Updated:2018/7/09
SPECTROMETER INSPECTION AND ANALYSIS SOFTWARE | HANDHELD SPECTROMETER SUPPLIER - UPRTEK
UPRtek, since 2010, is one of the prime handheld spectrometer manufacturers and their products are infused with a formula of practicality, mobility, green technology and intelligence. Our handheld spectrometer is lightweight and intuitively designed, users can operate the spectrometer without computers; measurement data can be displayed and viewed immediately on the spectrometer.
Handheld spectrometer's factory certification includes ISO9001 quality management system, and applying ISO14001 environmental management system and IECQ QC 080000 HSPM hazardous materials process management system. IES Progress Report and Red Dot award winning design, conforms to ISO14001, JIS, DIN and meets IECQ standards, UPRtek's handheld spectrometer total solutions are applicable to various industries such as spectrometer software, wireless card, LED meter, LED light tester and wireless card.
UPRtek has been offering customers high quality spectrometer | LED light tester that are infused with a formula of practicality, mobility, green technology and intelligence. Both with advanced technology and 10 years of experience, UPRtek ensures each customer's demands are met. 
View our quality products Handheld Light Meters, Flicker Meter, Color Meter, Compact Spectrometer, Advanced Spectrometer, Spectral PAR Meter, Wireless Control Card, Mobile Spectrum APP, PC Software and feel free to Contact Us.