2018 Appreciation Season.Login and Receive Exquisite Freebies
As long as you buy any model of UPRtek handheld spectrometer from Jan 1st to Nov 30th, 2018 and login to our website successfully 7th, December, 2018 (Fri), you will have a chance to win prizes!
Four reasons why you must have a UPRtek Handheld Spectrometer:
With more than 40 light source measurement parameters, users can customize them according to their needs.
The light source measurement index is always up-to-date with the international organization (CIE, IEEE, Energy Star) regulations.
Through its standalone design, users can measure the light anytime regardless of limitations in space and time.
Post PC analysis software support allows users to compare real-time data and generate project reports automatically.
■ Activity Method:
After purchasing UPRtek products, please login to our activity page at www.uprtek.com and fill in your complete information (product HS code, purchasing date and contact information).
If the login information is incomplete, you will not be able to get a chance in our lucky draw.
This event is exclusive for buyers. Agents and distributors are not allowed to participate in.
The details and specifications of the prizes are subject to the actual product.
■ Lucky Draw & Winner Announcement:14th, December, 2018 (Fri)
■ Activity Process:

■ HS Code: Please turn to the back of the unit or open the back cover to see the HS Code ( Example: HS2BCH000035).
If you have any question about checking HS Code, please feel free to contact the original sellers or UPRtek headquarter.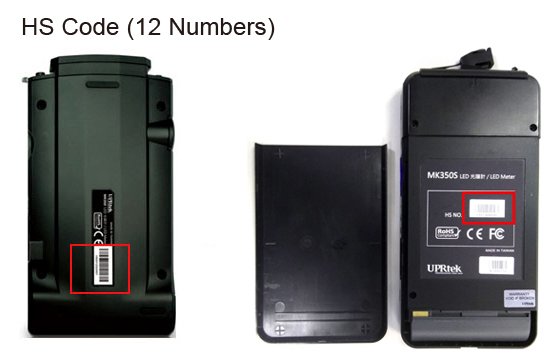 ■ Reminders:
It could only be logged in once for HS code of each spectrometer product.
The activity is only for buyers purchasing the product during the above specific duration and completing the online login operation. If it is overdue, it will be invalid.
Participants are requested to provide the correct contact information in order to deliver the prize to you. UPRtek is not responsible for any failure to send gifts due to errors in the information provided.
The personal data obtained in the www.uprtek.com is for the purpose of this activity only. UPRtek will not provide users' personal information to the third party or use it illegally without your consent.
Prizes for this activity may not be exchanged for cash and converted to other gifts.
The prizes of this activity are subject to the actual product. In case of out of stock or force major factors (ex: International Shipping Regulations), UPRtek has the right to substitute other equivalent goods.
UPRtek reserves the right to cancel, terminate, modify or suspend the activity and notify the participants by announcement. If there are any unfinished matters, please following the relevant regulations or explanations of the UPRtek.
■Login Area: For we can provide you a better service, please fill in all * fields below.