New Arrival! uSpectrum PC Software_Mac Version
Make Spectrum Analysis More Efficient
To serve UPRtek spectrometer customers, we now launched the uSpectrum PC Software_Mac Version. Users can use Apple computer to contect with UPRtek spectrometer by wireless for big data analysis to satisfy the needs for research. UPRtek offer spectrum applications that are suitable for different applications, different use purposes and different usage scenarios to help you get the most out of your work.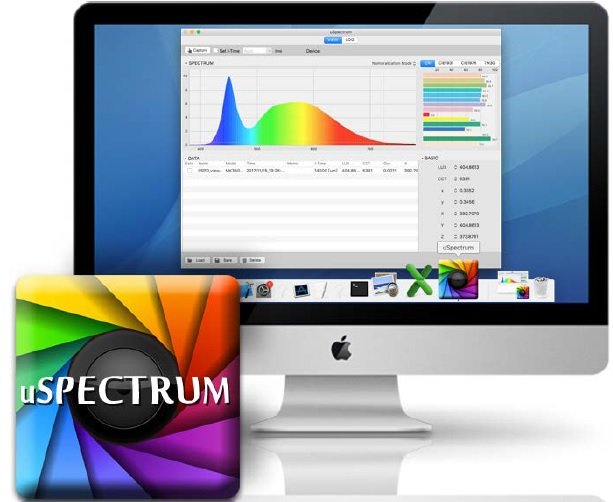 Main function_General (Device information, Dark calibration)
In the general setting, you can see the basic informaiton of this software and the Dark Caliration function. Please be reminded that uSpectrum PC software_Mac Version only supports one spectrometer at a time and please run dark calibration before taking measurement after power on.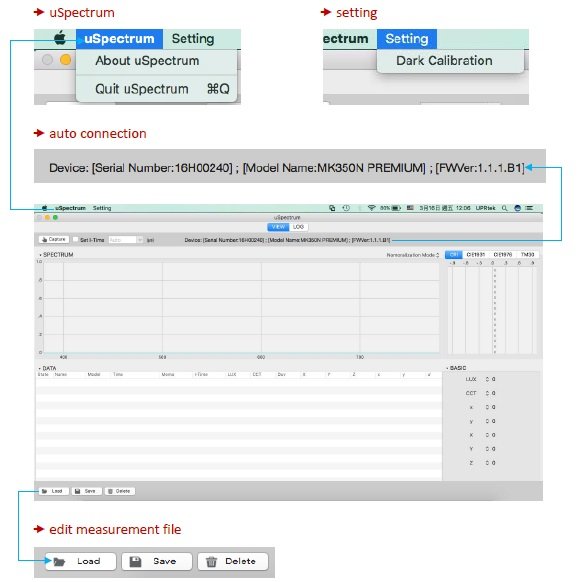 Main function_View Mode (Spectrum, Basic parameters, CRI, CIE & TM30)
In this mode, in addition to the basic views of spectrum, you can also switch 4 type of graphic, CRI, CIE 1931, CIE 1976 and TM-30 so that you can perform different forms of light source at any time.

Main function_Log Mode (long time measurement)
You can run continuous measurement and display line chart of individual parameters.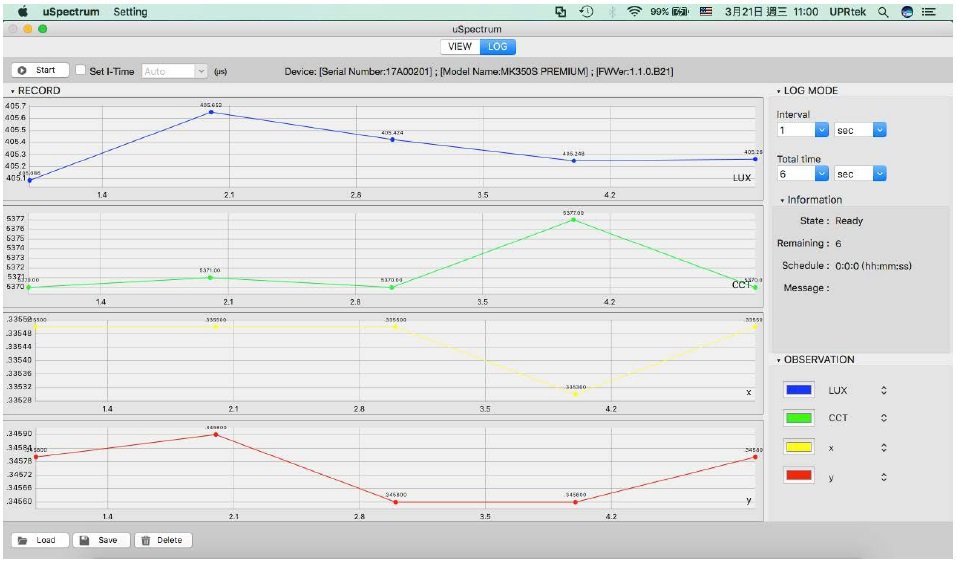 UPRtek hopes that with the research and development of smart device application software, you will be able to use computer software for big data analysis while using high quality measuring instruments, so as to meet your needs in different fields of work. If you want to learn more about the detailed operation and usage instructions of uSpectrum PC software_Mac version, please download the Software Installation and Software User Manual from the product page of official website.
More details of MK350 Handheld Spectrometer Series, please go up to the official Website : https://www.uprtek.com/category/Handheld-Spectrometer/CAT-Handheld-Spectrometer.html
Any questions about our service & products, please visit the FAQ on our website, or you can leave your message and contact information, we will feedback you as soon as possible.
UPRtek Marketing Department
Press Contacts:Phoebe Sung
Tel:037-580885# 8212
Mail:mkt@uprtek.com