UPRTEK MK350S PREMIUM-SPATIAL DESIGNER & LIGHTING RESEARCH SPECIALIZED METER SELECTED FOR 2018 IES PROGRESS REPORT
MK350S Premium Spectrometer is a multifunctional handheld Lighting Meter. It is the best tool for Lighting Designers to quantify and research the light sources as well as be selected as the proper lighting fixtures to their customers. In fact, it is not only for interior lighting design, but also health lighting and business LED manufacturers. The MK350S Premium's main task is to reduce users' workload and increase work efficiency. The 4 advanced features: (1) Lux Image mode- detection of light distribution becomes simpler and designers reduce their evaluation time as well as lessen the risk of making the wrong judgments. (2)The first handheld Spectrometer in the world adopts IEC 62778 and utilizes IEC 62471 for the assessment of blue light hazard to light sources and luminaries. Assess the blue light risk of LED and lighting fixtures, as well as help designers to establish a healthy lighting environment.(3) In accordance with IEEE Std 1789™-2015 Flicker safety standard with Risk judgments function to assist users clarifying how serious the flicker problems are by point analysis figure. This service provides users with more intuitive and simpler way to assess risks of the light source. Green means invisible area (No Risk), yellow means Low Risk, red means Danger area. (4) Support multi-measurement application- standalone, remote control app (Remote Control) and PC software (uSpectrum & uFlicker) which help users to analyze light effectively.
About The IES Progress Committee
The mission of the Progress Committee is to keep in touch with developments in the art and science of lighting throughout the world and prepare a yearly report of achievements for the Society. Acceptance is based on an impartial judging process used by the committee to evaluate each submission on its uniqueness, innovation and significance to the lighting industry.
More updated news- Spatial designer & lighting research specialized meter, please visit UPRtek official website.
https://www.uprtek.com/product/MK350S-Premium-Spectrometer.html
Any questions about our service & products, please visit the FAQ on our website, or you can leave your message and contact information, we will feedback you as soon as possible.
UPRtek Marketing Department
Press Contacts: Maggie Shih
Tel: 886-37-580885# 8211
Mail: mkt@uprtek.com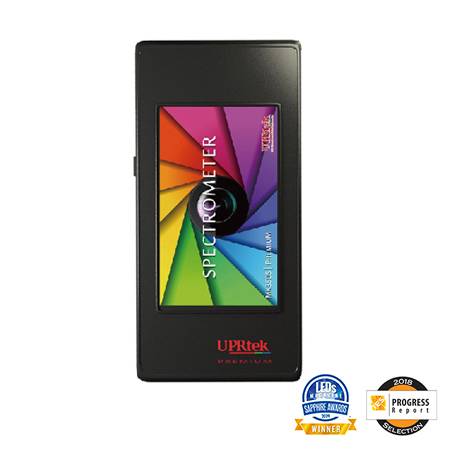 MK350S Premium
MK350S Premium is a Handheld Spectrometer with Muli-Functions in itself. It's not only a Spectrometer, but also can be a Quantum PAR Meter, Blue light Detector and Oscilloscope. The