UPRtek Mobile Spectrum APP- uSpectrumX is on line
UPRtek's latest Mobile Spectrum APP-uSpectrumX has been officially launched on the App Store and Google Play. The new interface and rich measurement function enable users to connect to handheld spectrometers via Wi-Fi, remotely operate handheld spectrometers, and perform light source calibration, measurement, preservation, analysis, and so on.
In addition to a variety of light source measurement modes Spectrum, CIE1931, CIE1976, CRI,TM-30, Flicker, Frequency, uSpectrumX can also further view light source details, such as LUX,CCT,CRI,x,y, λ p and λ pV. You can also share measurement data via email and select uSpectrumX or open UPRtek xls files from other applications as you like.
Supported Devices
Now uSpectrumX only support MK350S Premium (≧ FW Ver.1.1.0.B21) and MK350N Premium (≧ FW Ver.1.1.1.B3), but we will continuously add more supported devices in the future.

More details of MK350 Handheld Spectrometer Series, please go up to the official Website : https://www.uprtek.com/category/Handheld-Spectrometer/CAT-Handheld-Spectrometer.html
Any questions about our service & products, please visit the FAQ on our website, or you can leave your message and contact information, we will feedback you as soon as possible.
UPRtek Marketing Department
Press Contacts:Phoebe Sung
Tel:037-580885# 8212
Mail:mkt@uprtek.com
UPRtek has extensive experience in mobile APP design and development. Designe the uSpectrum APP for UPRtek handheld spectrometer series. It provides App Store and Google Play the mos
MK350N Premium
MK350N Premium is a Spectrum Analyzer, LED Meter and Flicker Meter for LED manufacture. Embedded with spectral technology and optimize the LUX measuring range. Overall, the measuring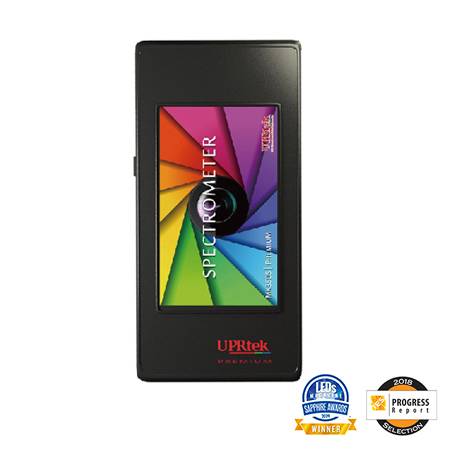 MK350S Premium
MK350S Premium is a Handheld Spectrometer with Muli-Functions in itself. It's not only a Spectrometer, but also can be a Quantum PAR Meter, Blue light Detector and Oscilloscope. The