UPRtek Spectrometer-MK350S Premium Firmware Updated:Version 1.1.0.B24
UPRtek the pioneer handheld spectrometers supplier for lighting industrial, announced a new Firmware Update Version 1.1.0.B24 for MK350S Premium spectrometer.
The differences from previous version are as below:
Added: Put "unit" on raw data
Added: Enhances the stored image resolution to 1.3M in LUXG mode
Added: Add 4 points brightness ratio on pseudo-color image in LUXG mode
Added: Added RG 0~3 Group comparison table in Blue light Hazard mode
Added: Support optional parameters on basic list in Compare mode
Added: Supports archive/reading function in Compare mode
LUX Image Distribution Mode
The spatial reality image and pseudo-color image of LUX Image Distribution Mode can help lighting designers to make simple judgments on the brightness of spatial light distribution, or as a basis for lighting design software (such as DIALUX) for comparison and adjustment (the number of lamps, Spatial illuminance distribution…). At the same time, it provides the most complete and suitable space illumination, brightness and atmosphere for the owner.
DIALUX EVO Pseudo-Color Image
DIALUX is lighting design software that helps lighting designers plan simulated illuminance. It is designed to provide designers and owners with intuitive and clear information to discuss before construction. The LUX G Image mode of the MK350S Premium can help lighting designer or owner to actually check the lighting effect of the lighting installation at the scene of the case, avoiding the problem of the difference in the illuminance during the design and actual construction.
MK350S Premium LUX G Image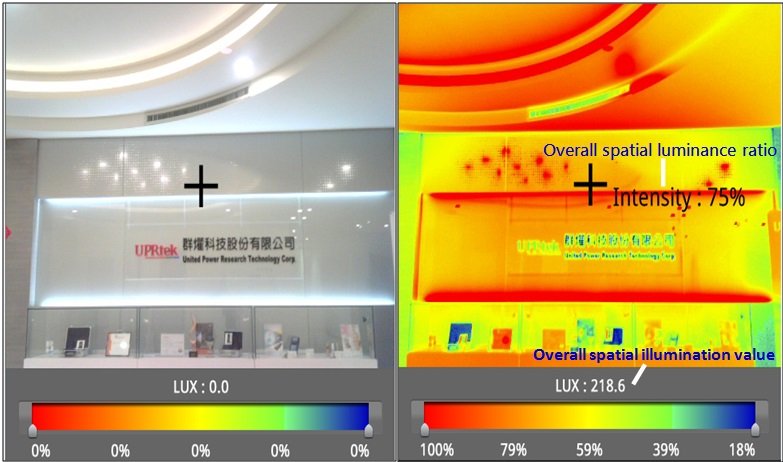 In the past, we usually used an illuminometer to measure the illuminance when conducting site inspections, it cost time and inefficient. Now the new updated version of MK350S Premium, in addition to displaying the cross-bow area luminance ratio and overall spatial illumination value on the instrument screen, we add the spatial illumination ratio of the four corner of the space to help designers adjust the design plan at any time by making more accurate judgments with the most intuitive and practical data when comparing the scene brightness and the DIALUX software simulation.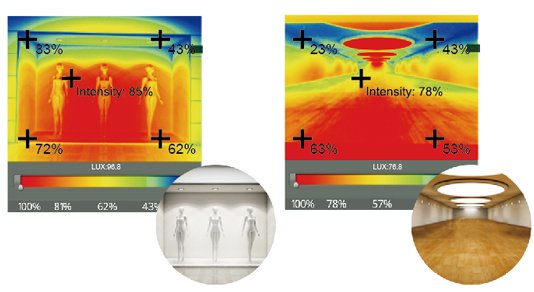 UPRtek MK350S Premium Spectrometer
MK350S Premium is a Handheld Spectrometer with Muli-Functions in itself.It's not only a Spectrometer, but also can be a Quantum PAR Meter, and Oscilloscope.Especially we add the BLH Judgement feature in it which's the latest popular topic and requirement for the Lighting industry.The strong and various functions can make users task quicker and efficiently.

When updating the firmware, please follow the steps below
Backup data.
Check the firmware version.
Disable the power saving function.
Download the new firmware and SOP.
(Note: If you fail to update the firmware, it might be the problem of the SD card, please use another card and try again!)
More details of MK350 Handheld Spectrometer Series, please go up to the official Website : https://www.uprtek.com/en/category/Handheld-Spectrometer/CAT-Handheld-Spectrometer.html
Any questions about our service & products, please visit the FAQ on our website, or you can leave your message and contact information, we will feedback you as soon as possible.
UPRtek Marketing Department
Press Contacts:Phoebe Sung
Tel:037-580885# 8212
Mail:[email protected]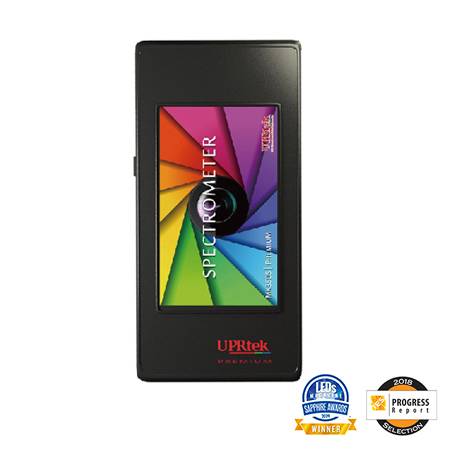 MK350S Premium
MK350S Premium is a Handheld Spectrometer with Muli-Functions in itself. It's not only a Spectrometer, but also can be a Quantum PAR Meter, Blue light Detector and Oscilloscope. The
SPECTROMETER INSPECTION AND ANALYSIS SOFTWARE | HANDHELD SPECTROMETER SUPPLIER - UPRTEK
UPRtek, since 2010, is one of the prime handheld spectrometer manufacturers and their products are infused with a formula of practicality, mobility, green technology and intelligence. Our handheld spectrometer is lightweight and intuitively designed, users can operate the spectrometer without computers; measurement data can be displayed and viewed immediately on the spectrometer.
Handheld spectrometer's factory certification includes ISO9001 quality management system, and applying ISO14001 environmental management system and IECQ QC 080000 HSPM hazardous materials process management system. IES Progress Report and Red Dot award winning design, conforms to ISO14001, JIS, DIN and meets IECQ standards, UPRtek's handheld spectrometer total solutions are applicable to various industries such as spectrometer software, wireless card, LED meter, LED light tester and wireless card.
UPRtek has been offering customers high quality spectrometer | LED light tester that are infused with a formula of practicality, mobility, green technology and intelligence. Both with advanced technology and 10 years of experience, UPRtek ensures each customer's demands are met. 
View our quality products Handheld Light Meters, Flicker Meter, Color Meter, Compact Spectrometer, Advanced Spectrometer, Spectral PAR Meter, Wireless Control Card, Mobile Spectrum APP, PC Software and feel free to Contact Us.