MD100N Desktop Spectroradiometer
Cost effective display panel evaluation on production lines
Laboratory-level spectral instrumentation is not feasible to use in production facilities – they are expensive, bulky and slow to measure.  The MD100N Spectroradiometer addresses those issues with cost-effective,  adaptable, flexible design with a high focus on accuracy/precision.
MD100N Desktop Spectroradiometer
Photo by Saj Shafique on Unsplash
Spectrum
Sensor
CMOS Linear Image Sensor
Wavelength Range
380 to 780nm
Wavelength Data Increment
1 nm
Spectral Bandwidth
Approximately 9 nm (Half Bandwidth)
Features
Capture Function
One time / Continuous
Operation Mode
RS232 / USB Mode (PC connection)
Integration Mode
Auto / Manual
Key Measurement Information
Luminance Measuring Range
0.001 ~ 5,000 cd/m²
Luminance Accuracy
± 2% @ 100~5,000 cd/m²
Color(x/y) Accuracy
± 0.002 @ 100~5,000 cd/m²
Introduction
Display Panel manufacturers know that it's troublesome to maintain image quality consistency in their panels,  from product to product, batch to batch.
Additionally, there has been an influx of new display technologies (LED, OLED, BLU, MiniLED, MicroLED) and applications (Micro display, AR/VR).  And with them, come new challenges in light performance, quality and safety (Lv, color accuracy, contrast, gamma, metamerism, visual eye safety etc).
These manufacturers certainly have laboratory-level light measurement instrumentation to address these inconsistencies, but they are often cost-prohibitive, bulky and painfully time-consuming to be used on production lines.
The MD100N is a spectroradiometer that is cost-effective, with fast measurement times, and a focus on Laboratory-level precision.  It can be used by manufacturers, OEM/ODM companies of any size and allows much more flexibility and versatility for inline product inspection.
MD100N Desktop Spectroradiometer
Diffraction grating technology
Full Flicker metrics (JEITA, CONTRAST, VESA, RMS, FFT)

SDK interface allow own RD efforts to integrate with MD100N data.

MD100N must be used with accompanying PC/Laptop. USB  or RS232 cable connection.
Different receptor sizes for smaller displays (e.g. watches).
Supported by several 3rd party tuning tools
Production Line Accuracy and Speed
It's possible to use a 3-color RGB colorimeter to evaluate panels.  Of course, there is a lot of room for error and inaccuracy.
UPRtek spectroradiometers use a diffraction grating that is more accurate and discerning when distinguishing colors.
The measurement time is 10x faster than other laboratory-level instrumention, meeting most production line test speed requirements.  It's almost as fast as a Colorimeter.
▸Read on the difference between colorimeter and spectrometer
Crushing Flicker and Blue Light
More than ever before, attention is being given to visual eye safety as consumers are spending more time watching TVs, monitors and cell phone displays.
Flicker is a significant problem in display panels.  UPRtek provides metrics for the most commonly used standards to check for flicker.
JEITA , VESA, CONTRAST, RMS, FFT
The MD100N and MK550T are both able to meet measurement requirements for TUV Rheinland Eyesafe® safety standards. These specifications require only spectroradiometer class instrumentation to validate display panel performance for low-flicker and low-level blue light.
The need for consistency & accuracy
Offers Various Calibration Tools
UPRtek spectroradiometers are supported by calibration and tuning tools including CalMan Studio, UPRtek XYZ Matrix Calibration software, Wavelength Shift Calibration Tool and Spectral Intensity Calibration Tool.
SDK (Software Development Kit) support
The MD100N also offers SDK interface support to integrate with RD software testing efforts implemented by manufacturers.
Display panels – all types and sizes
The proliferation and evolution of display panels (LED, OLED, HDR, wider gamut displays, mobile devices, wearable devices, AR/VR) has made it even more important to use convenient, versatile measuring instruments.
MD100N  has different receptor sizes to adapt to most screen sizes.  The smaller pinhole sizes are used to test watches and cell phone panels, especially in the compacted corner regions of the screen.
Full Screen View & Data Analytics
The MD100N is used with uSpectrum and uFlicker software, both of which are easily downloaded to a laptop/PC (free of charge).  They allow you to Operate the MD100N easily and display configurable data sets as you prefer.
▸Read about our uSpectrum Software
QA of Display Panels doesn't have to be bulky, slow and expensive.
MD100N is a new spectroradiometer used to help Display Panel Manufacturers produce repeatable, color-precise products with less effort, less time, less cost, more confidence.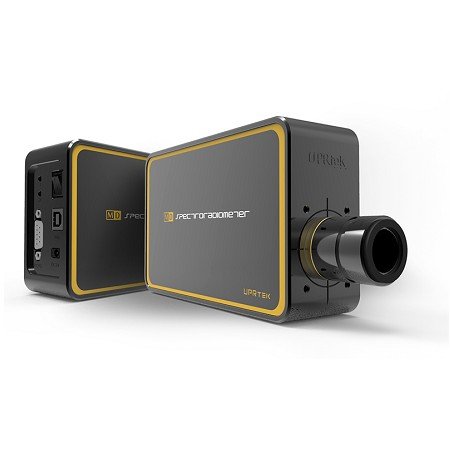 The Grow Light Handbook
Everything thing you need to know to get started on Indoor Farming, PAR meters, and Grow Lights  – history, industry, vertical farming, PPFD, types of lights, photosynthesis and more!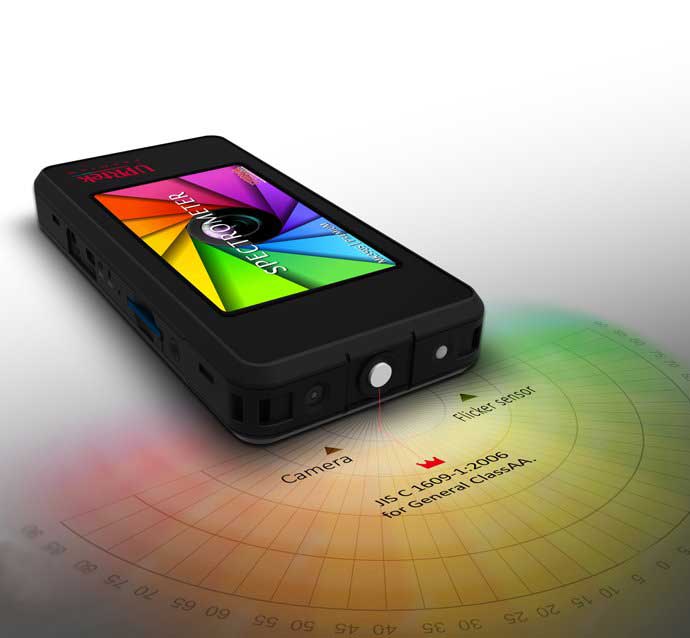 United Power Research and Technology
UPRtek (est. 2010) is a manufacturer of portable, high-precision light measurement instruments; Handheld Spectrometers, PAR meters, Spectroradiometers, Light Calibration Solutions.
UPRtek HQ, R&D and manufacturing are all based out of Taiwan, with Worldwide representation through our certified Global Resellers.
UPRTEK AT THE 30TH INTERNATIONAL CONFERENCE ON ARABIDOPSIS RESEARCH (ICAR 2019)
UPRtek's partner in China, Quelighting Optoelectronics Co., Ltd, and Plant Growth Chamber Manufacturer Ningbo Jiangnan Instrument Factory will attend the 30th International Conference on Arabidopsis Research (ICAR ) which is being held on June 16-21 at Huazhong Agricultural University in Wuhan City, Hubei Province, China.