PG200N
PPFD, PFD, Plant Factory, Medidor Quantum PAR
Detector portátil de iluminación de crecimiento de plantas UPRtek PG200N
PG200N es un medidor portátil Spectra PAR que cumple con los requisitos de la clase de iluminancia JIS AA y DIN B. El objetivo principal de crear PG200 es superar los límites de los detectores de plantas / medidores cuánticos tradicionales que solo ofrecen PPFD (densidad de flujo de fotones de fotosíntesis), PFD (Photon Flux Density), Lux y parámetros básicos de iluminación. Esta vez, el medidor PAR PG200N está integrado con un sensor G para ayudar a los usuarios a ajustar la posición de medición de forma dinámica. El cabezal del sensor está actualizado al nivel IP66 a prueba de agua y polvo para garantizar que la precisión de los datos no se vea afectada por la humedad. Además, a través del espectro de referencia PAR integrado, los usuarios pueden confirmar instantáneamente la absorción de luz por parte de las plantas y proporcionar una fuente de luz adecuada. PG200N es el medidor más inteligente e innovador que se utilizará en los proveedores de equipos de fábrica de plantas LED,integradores, diseñadores de iluminación de plantas e institución de I + D.
El medidor Spectra PAR PG200N cumple con los requisitos de la clase de iluminancia JIS AA y DIN B
■Exclusive Spectrum PAR Meter with Axial Displacement Function, G Sensor
Users understand the angle of the PG200N by using G-sensor and adjust it to get the most appropriate horizontal position. It is recommended for indoor and outdoor plant measurement.
Application 1: Plant Factory site inspection. It is similar to horizontal "position sensor"function.
Application 2: Sensor head can be used with a selfie stick and camera tripod. Users can easily measure far reaching ranges and adjust the measurement point horizontally.
By using motion sensor (G-sensor), users can intuitively check the axial shift and the anchor point can be fixed anytime to avoid the artificial measurement error from happening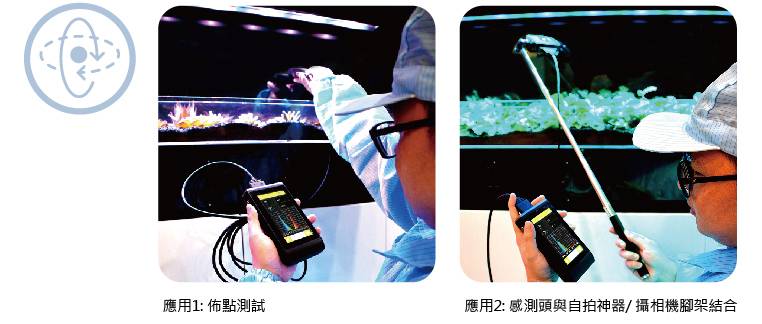 ■The First Handheld Spectral PAR Meter with Durable and Waterproof Sensor Head
PG200N sensor head is IP66 level with waterproof and dustproof functions which are suitable for field and humid environment measurements. It has a build-in logging mode which allow users to monitor, collect and record data for a long time. Moreover, PG200N can be connected with uSpectrum PC software for advanced analysis that enables the creation of an exclusive plant light formula database to make plant production more stable and more efficient. It is recommended for plant factories and greenhouses.
PG200N Spectra PAR Meter complies with waterproof level IP66
■Plant Growth reference spectrum comparison
Plants utilize different photosynthetic pigments ( cholorophyll a, cholorophyll b, β-carotene and photosensitin) for the occurrence of photosynthesis in different wavelengths of light. PG200N Spectral PAR Meter is a professional plant light detector embeded with PAR reference spectrum for users to check whether the current plant growth light spectrum configuration meets the plant light absorption requirements. And if not, users can adjust their light source to meet the plants' basic light requirement instantly. It helps plants grow healthily. The following are the photosynthetic pigments:
(1) Cholorophyll a- Main absorption peaks are 418nm and 660nm. In photosynthesis, cholorophyll a mainly performs photoreation which is also called the main pigment. It widely exists in higher plants.
(2) Cholorophyll b- Main absorption peaks are 454nm and 643nm. It is an photosynthesis accessory pigments. It also widely exists in higher plants.
(3) β-carotene –Main absorption range is blue violet (400 nm -500 nm). It is the same as the chlorophyll b, which is a photosynthesis accessory pigment. It transmits the absorbed light energy to chlorophyll a for photosynthesis. It is widely available in green and yellow fruits and vegetables, such as carrots, mangoes, papayas, sweet potatoes, citrus and others.
(4) Phytochrome –It is a protein pigment in plants and is divided into 2 types which are active form-Pr (Phytochrome red with 673nm absorption peak) and inactive form-Pfr (Phytochrome far red with 732 nm absorption peark)。The phytochrome mainly absorbs red light and far red light through the light signal to regulate plant growth and development.
【1】 Whitelam G C, Devlin P F. Light signaling in arabidopsis plant[J]. Plant Physiology and Biochemistry, 1998, 36(2): 125-133.
PG200N offers plant reference spectrum for users to compare and compensate the necessary light wavelength needed by plant.

■Customizing PPFD (Photosynthetic Photon Flux Density) & PFD (Photon Flux Density) Range of Plant
Measurement wavelength can expand from 350 nm to 800 nm (UVA-FR). Users depend on their needs to identify the PFD wavelength.
Customizing PPFD (Photosynthetic Photon Flux Density) & PFD (Photon Flux Density) range of plant
■PSS Indicator (PPS, Phytochrome Photostationary State)
PG200N PSS measurement indicator, which mainly include Phytochrom A Red (Pr) and Phytochrome A Red (Pfr), and they are discussing the red light and far red light which are closely related to plant growth. Users can know how close the light emitted by the plant growth lamp you use is to the sunlight through the PSS index and have sufficient light source for plants to help plants grow well.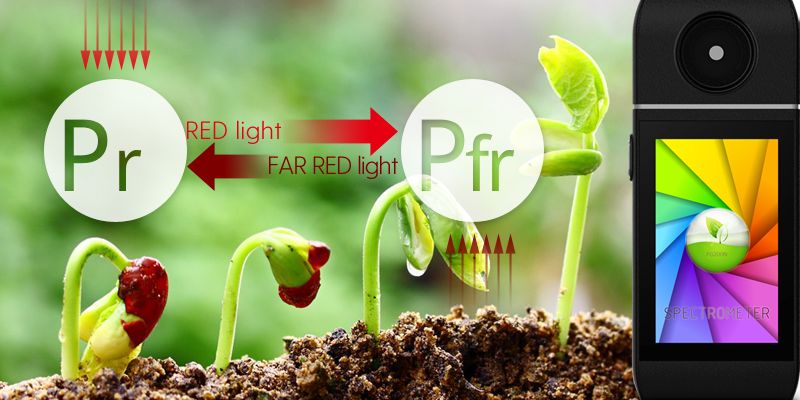 ** Phytochrome A Red
This is a kind of pigment in the plant, the component is protein, and the absorption of red light will be converted into the pigment Pfr that absorbs far red light. Plants mainly receive external light signals through photochrome to regulate their own growth, development and flowering.
** Phytochrome A Far Red
This is a kind of pigment in the plant. The component is protein. Absorption of far-red light will drive the pigment to turn into a form of red light absorption Pr. Plants mainly receive external light signals through photochrome to regulate their own growth, development and flowering.
■Large and varied data for complex analysis in different kind of situation
COMPARE mode
There are various products which including poor ones that we cannot avoid in the LED plant growth lamp market. PG200N COMPARE mode helps users to correctly select high-quality products in the early stage when buying to ensure that they provide the best light source for plants.
LOGGING continuous measurement mode
How can the lighting designer predict the life and death of a lamp? Whether the light color changes or the life of the lamp is shortened, the designer needs to observe and record the performance of the lamp for a long time to find out the problem. PG200N's LOGGING continuous measurement mode will be a powerful assistant for lighting designers, assisting designers to save the experimental data which they spend a lot of time and energy in the development and design and it will be easier to adjust and improve the light through big data analysis!
GRID mode
In the plant factory, there are a bunch of LED growth lamps inside, which one has a problem? And is it enough to just look at the growth of plants? In addition, installing a lamp is a piece of cake, but the extra electricity bill is a major thing! The GRID mode helps you to analyze and compare multiple lamps. It is not only tell you the indices related to plant growth, but also include the average value of the whole plant, the difference between the maximum and minimum values. These are the key issues to monitor multiple lamps more effectively in the plant factories.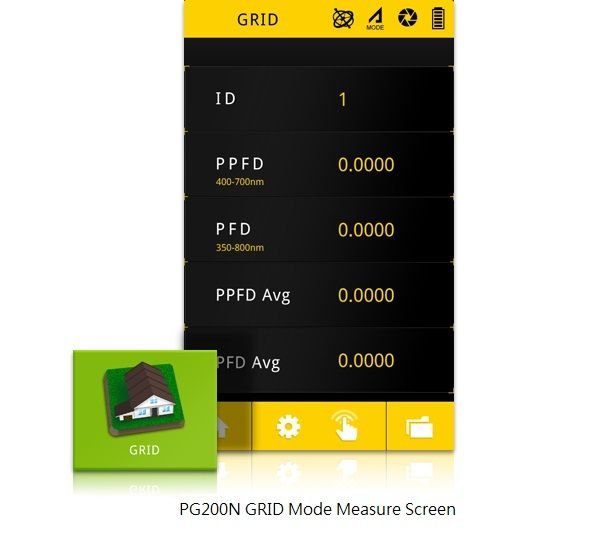 ■Optical receiver complies with the CIE illuminance Cosine Correction Regulation
Cosine receiving surface is optimized, users can measure light from different angles properly and get accurate values.
PG200N Spectral PAR Meter Cosine receiving surface is optimized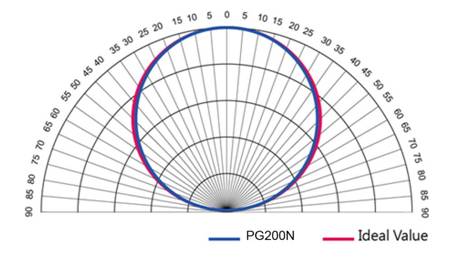 ■LED Grow Lights-Multi Measuring Options
According to various scenario requirements, users can adopt the most suitable solutions for measuring which greatly improves measurement flexibility and practicality
(1) Standalone (Detachable sensor head)/ Sensor head can be measured on both sides
(2) Remote measurement-a. USB Type-C cable measurement, b. Bluetooth iOS/Android APP Controller
(3) uSpectrum PC Software- Users make advanced analysis comparison, store and export report more effectively.
LED Grow Lights-Multi Measuring Options:Standalone, Wireless bluetooth connection and uSpectrum PC software analysis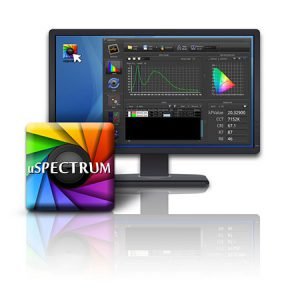 UPRtek diseña y produce espectrómetro de mano no solo proporciona un método de medición más fácil, sino también abundante información espectral que se usa ampliamente en el campo de la
UPRtek tiene una amplia experiencia en el diseño y desarrollo de aplicaciones móviles.Designe la APLICACIÓN uSpectrum para la serie de espectrómetros portátiles UPRtek.Proporciona App Store y
SEND PRODUCTS INQUIRY TO US
To provide with better services, pleaser fill out the form below.
We Need Your Consent
By consenting to this privacy notice you are giving us permission to process your personal data specifically for the purposes identified. Consent is required for us to process your personal data, and your data will not be shared to third parties.
SOFTWARE DE ANÁLISIS E INSPECCIÓN DEL ESPECTRÓMETRO | PROVEEDOR DE ESPECTRÓMETROS DE MANO - UPRTEK
UPRtek, desde 2010, es uno de los principales fabricantes de espectrómetros de mano y sus productos están impregnados de una fórmula de practicidad, movilidad, tecnología ecológica e inteligencia. Nuestro espectrómetro de mano es liviano y tiene un diseño intuitivo, los usuarios pueden operar el espectrómetro sin computadoras; Los datos de medición se pueden visualizar y visualizar inmediatamente en el espectrómetro.
La certificación de fábrica del espectrómetro de mano incluye el sistema de gestión de calidad ISO9001 y la aplicación del sistema de gestión ambiental ISO14001 y el sistema de gestión de procesos de materiales peligrosos IECQ QC 080000 HSPM. El informe de progreso IES y el diseño ganador del premio Red Dot, cumple con ISO14001, JIS, DIN y cumple con los estándares IECQ, las soluciones totales de espectrómetro de mano de UPRtek son aplicables a diversas industrias, como software de espectrómetro, tarjeta inalámbrica, medidor LED, probador de luz LED y tarjeta inalámbrica.
UPRtek ha estado ofreciendo a los clientes espectrómetro de alta calidad | Probador de luz LED con una fórmula de practicidad, movilidad, tecnología ecológica e inteligencia. Ambos con tecnología avanzada y 10 años de experiencia, UPRtek asegura que se cumplan las demandas de cada cliente.