DESKTOP SPECTRORADIOMETER
MD100N
LCD / OLED / microLED Display Test and measurement, Spectroradiometer, Color Measurement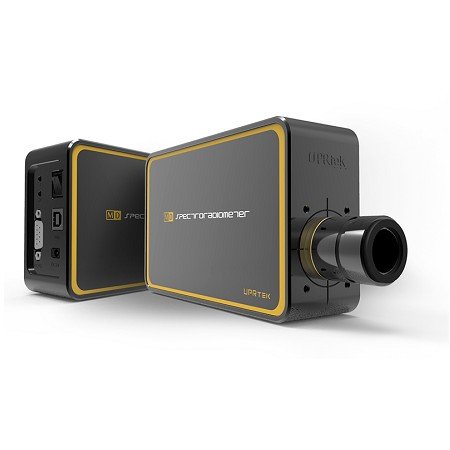 MD100N Display Measurement and Testing Solution
The Desktop-MD100N color and brightness inspection is considered as the Master in Display Test Systems and is an expert in capturing the high performance of contrast and color in display. It utilizes the advanced Optical spectral know-how and electronic signal processing technology replacing the Colormeter which has measurement inaccuracy problems. Also, MD100N spectroradiometer provides multi PC analysis softwares (uSpectrum/uFlicker) so users can customize the measuring list and analyze the big data simultaneously which simplifies workflow and speeds up work time.
LCD / OLED / microLED Display Test and measurement -MD100N measures the brightness and chroma value of the panel light easily and accurately that complies with the new display requirement. Key parameters include Luminance, CIE xy, Yxy, u'/v', GAMMA correction and White Balance Adjustment with adequate speed and high precision. It's precisely suitable for the display measurement of LCD, LED BLU, OLED, MiniLED, microLED that applies to smart phone, TV, Microdisplay, AR/VR ( Augmented Reality/ Virtual Reality) and even recommended wearable devices. Moreover, it can also be used in the panel production line.
UPRtek depends on our knowledgeable grating sensing and utilizes optimized measuring capabilities in display to provide the best color brightness measuring solution . It's precisely the MD100N Desktop Spectroradiometer that realizes the demands and makes display industry interesting.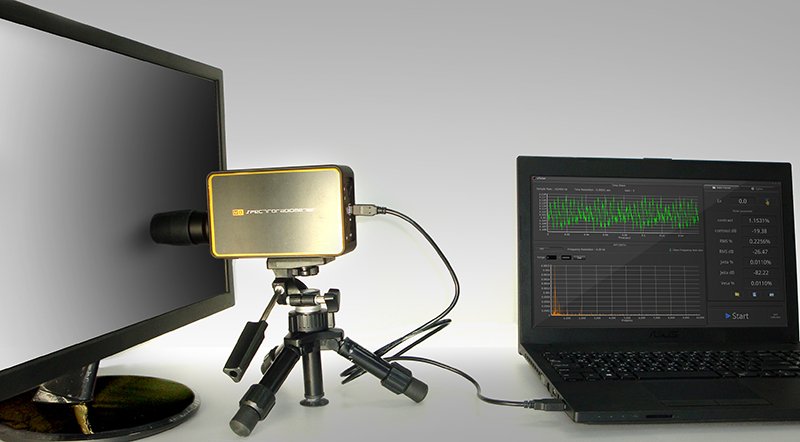 ■What are the troblems form LCD (LED backlight) & OLED?
In the picture below,we can easily noticed that the radiation curve of these displays' backlight are different. The main reason is each display has its own panel characteristic. Even a manufacturer produces the same batch of displays, it still has 5~10 nm offset at the peak wavelength which human eye cannot notice easily and it can lead to measurement error !

■Can panel characteristic errors cause chroma error?
Ans:Yes
Please refer to chart below. The wavelength has 1 nm offset and might lead to chroma error reaching to 0.0025. Imagine a panel characteristic causing a wavelength deviation from 5 to 10 nm, how much error do you think it can make?
The best choice is to use the display test solution-MD100N Desktop spectroradiometer to help you.
■What are the problems caused by differences in instrument capabilities?
Traditional Colormeter optical design uses RGB color filter sensor which simulates colors red, green and blue and estimates the color value which is close to spectral sensitivities of the human eye. However, the following disadvantages remain:
1) The value is not objective due to the following:
1st: The reflectance or transmittance rate is not included in the calculation.
2nd: There is no standard observer and perspective.
3rd : It calculates using RGB alone.
2) The processing of RGB color filter is difficult to control perfectly→The main reason is each RGB color filter sensor cannot perfectly match to CIE1931 XYZ color matching function.
Please refer the the table below. The wavelength shows error at ±2%→The maximum chroma error value is about 0.0066.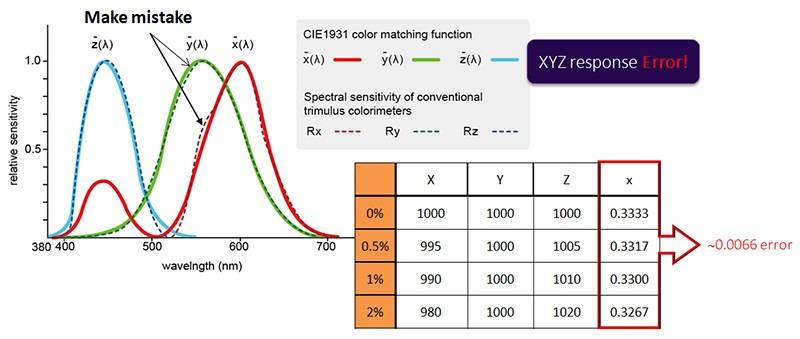 ■What differences can you notice from the pictures below?
Due to the panel characteristics as described above, they will cause certain inevitable differences on displays, plus the limited capabilities of measuring instrument and inaccuracy from the measurement results, we obtained a non-incidental result from the picture below:
In the market, some existing measuring equipments have lower performance of measuring ability. So, they may not be able to effectively control and monitor display related products with quality issues. As a result, it leads to the worse coverage of quality and receives more complaints from end-users in the market.
Enhance your display test and measuring capacities, MD100N Photometric Brightness Measurement will be your best help!
Features:
■High accurate measurement performance
Make sure that the spectral sensitivities of x (λ) / y (λ) / z (λ) are comparable to the CIE1931 color matching function. Easily enhance the chroma accuracy and provide measurements result which closer to the human visual

■MD100N is the best assistant for improving display technology and display quality
The advanced spectral technology provides customers with better chroma accuracy and chroma reproducibility. It also fully supports the GAMMA correction task from high to low luminance range precisely for most display products. MD100N Desktop Spectroradiometer helps customers achieve success and deliver the most realistic visual experience of new display.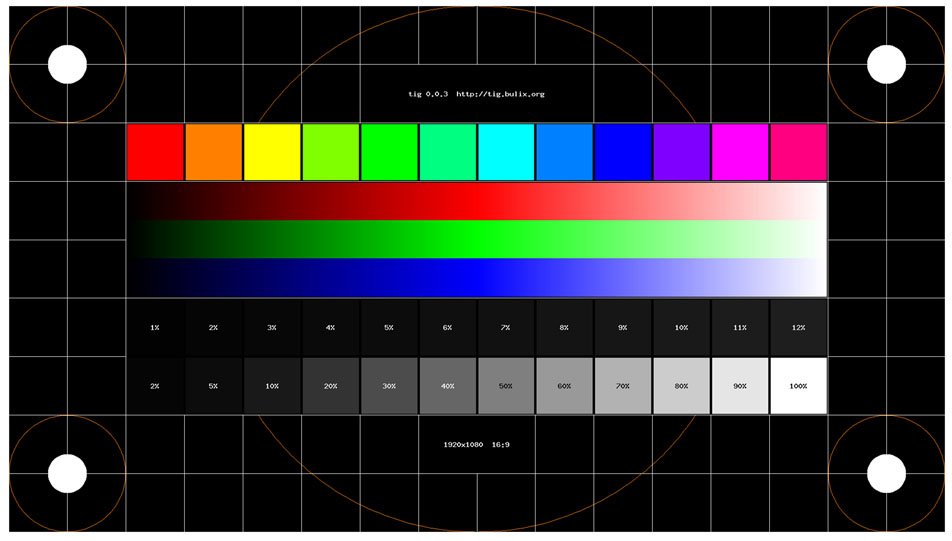 ■Providing wide-range sensor options for various needs
Offer different options of receptor sizes to users. It fulfills the measuring requirement of next generation of display: OLED display on the consumer electronic products, display on AR/VR products, and even wearable devices.
Availabe Receptor Size: Φ 10mm / Φ 5mmΦ 4mm / Φ3mm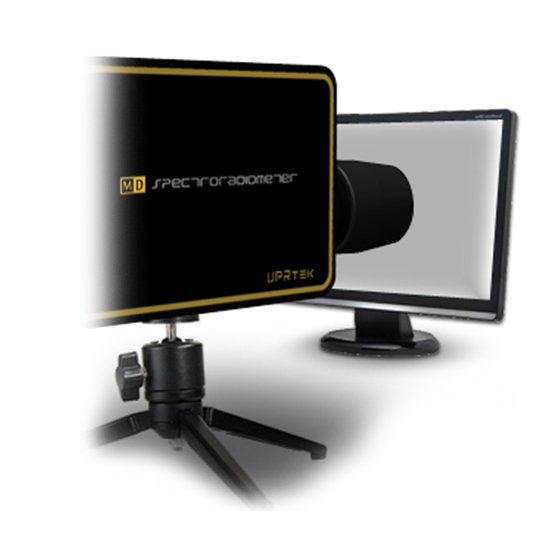 ■Perfect for any display measurement application

■Key measuring paremeter:
(1) Luminance Measuring Range: 0.001 ~ 5,000 cd/m-2
(2) Luminance Accuracy: +/- 3% @ 0.2~100 cd/m-2
(3) Color (x/y) : Accuracy +/- 0.003 @ 0.2 ~ 100 cd/m-2
(4) Flicker : JEITA / VESA / CONTRAST (Max/Min),RMS, Time Domain, FFT
(5) Spectrum : Visible spectral data / graphic
■Available options:
(1) Interface: USB / RS232
(2) Durable Metal Casing
(3) Various Free PC Software:
a. Spectrum Analysis PC Software
b. Flicker Analysis PC Software
c. SDK solution (Windows platform)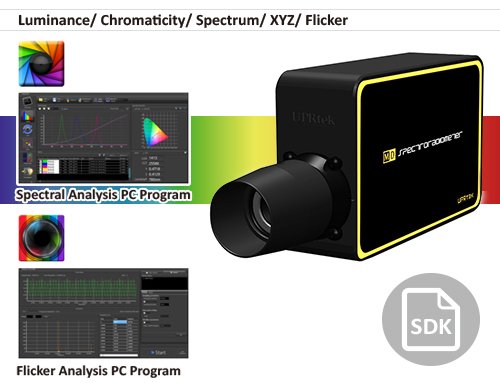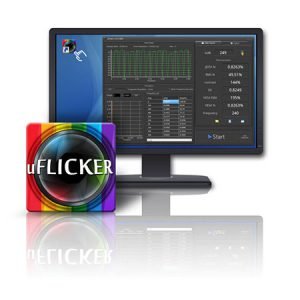 Flicker, the invisible killer of all lights, being implicated in triggering a host of health related issues such as epilepsy attacks, migraines, fatigue, reduced visual task performance, distraction and visual impairment.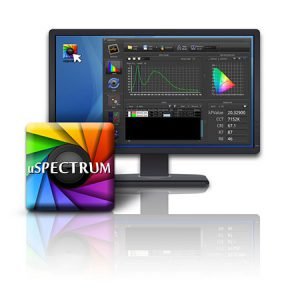 UPRtek design and produce handheld spectrometer not only provides an easier measurement method, but also abundant spectral information which is widely used in optics field. The handheld
Screen Color Measurement, Display Production Quality Control, Monitor Brightness Requirements
What is the first thing that comes to your mind when someone talks about display? Is there any relative between UPRtek and display technology? The rapid technology development powering the display on your TV screens and even your mobile phone displays. You must
SEND PRODUCTS INQUIRY TO US
To provide with better services, pleaser fill out the form below.
We Need Your Consent
By consenting to this privacy notice you are giving us permission to process your personal data specifically for the purposes identified. Consent is required for us to process your personal data, and your data will not be shared to third parties.