CV600
Exposure Meter,Color Temperature Meter
UPRtek CV600 Spectral Color Meter

CV600 – All purpose Professional Cinematic and Photographic Light meter. It is not only a Light meter, but also a Color meter, Cine meter and Exposure meter a quicker, more efficient measurements for cinematographer, videographer, video makers, and film producers to capture every life moment!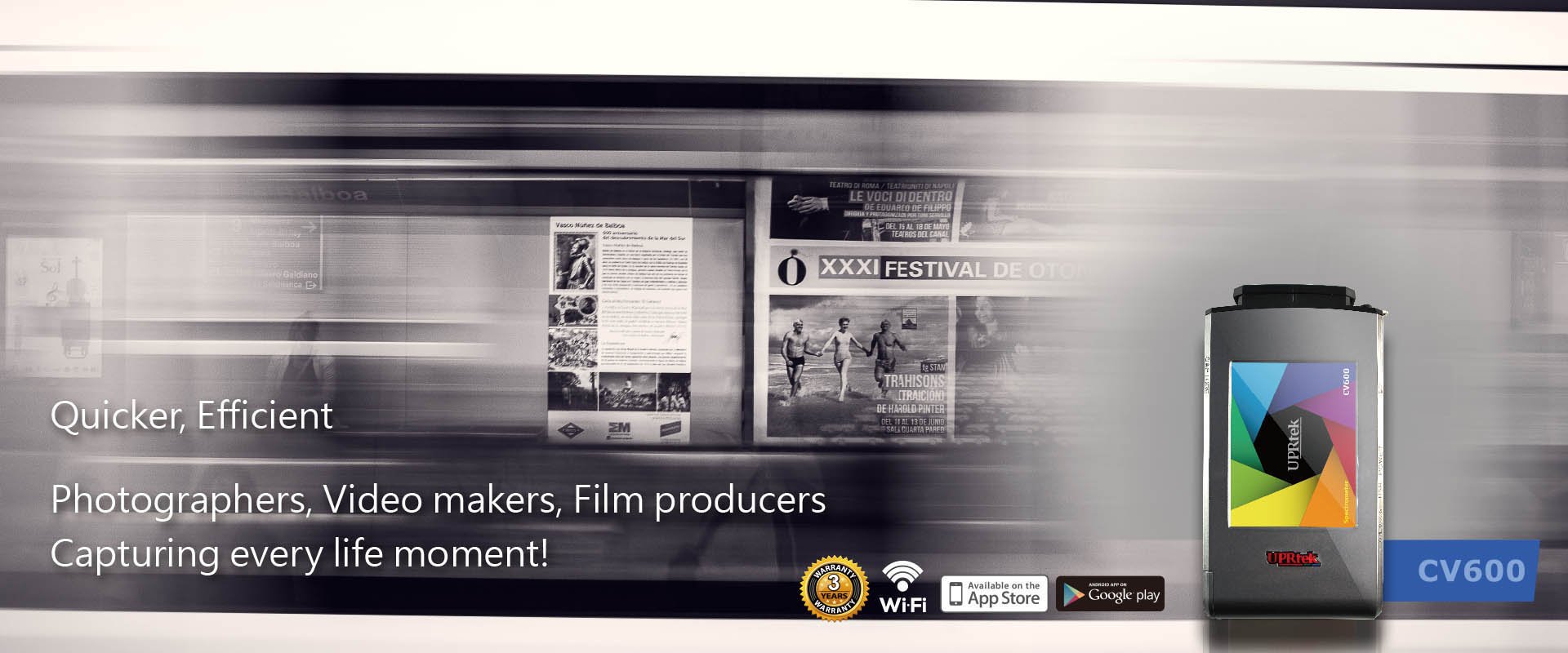 CV600 icon New Design targets the needs of professional photographers provide Advanced Features at work! Filter Library, Flicker Free setup, Color Rendering Evaluation ( CRI, TM30, SSI, TLCI, TLMF) and get a right Exposure value. These New functions are helping you to face the challenges of setting up lights.

The common used 『White Balance Map』 for cinematographer and videographer. Now combined with modern technology. Just target your Corrected Color Temperature. Check your current lights and accurately pinpoint the right gel to use CV600 helps you to control the light and increase the quality of work!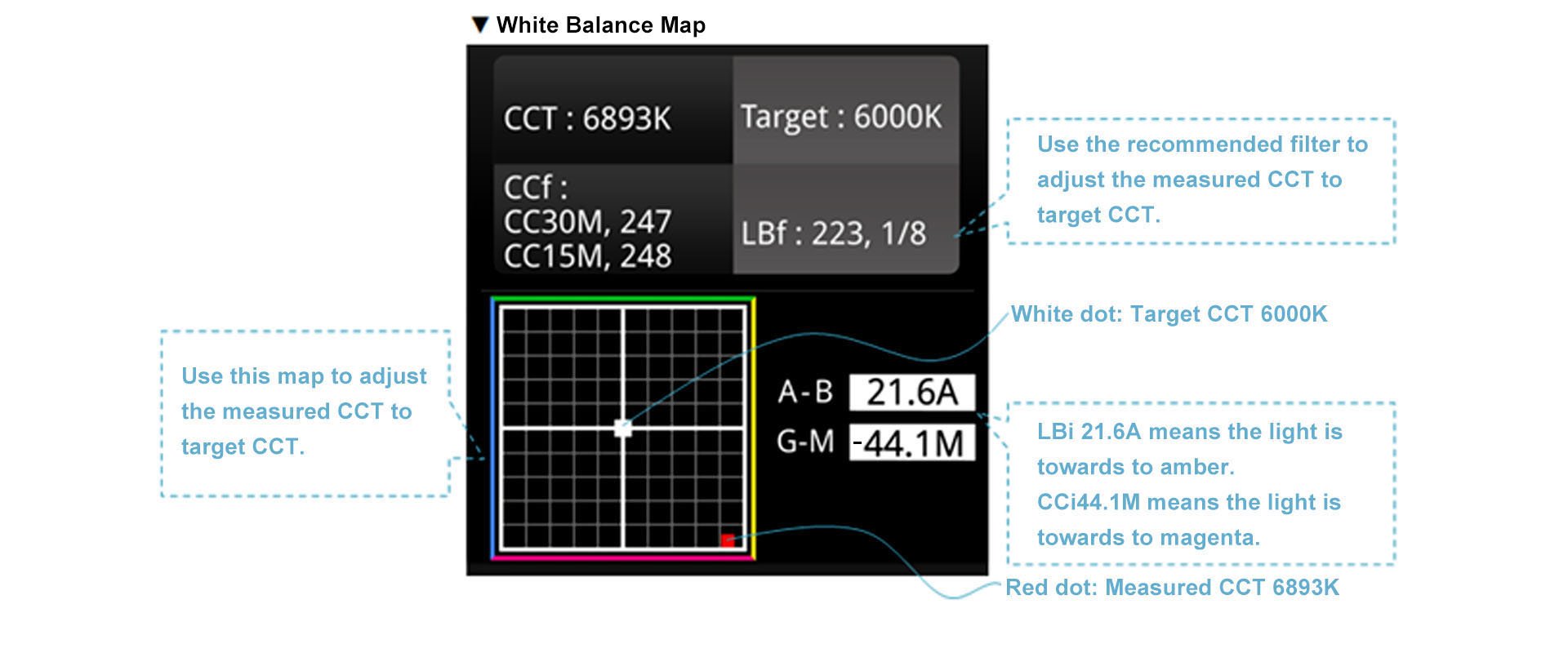 Filter Light Palette Includes CC/LB Rosco, LEE Filter, Kodak, FUJIFILM 4 brands of filter library to find the suitable color. Knowing exactly what gel to use. Save times to guess, trial and error.
Lighting quality affects the visual sensibility
Are you tired of spending a lot of time choosing the proper light source? CV600 adds the latest feature, called Spectral Similarity Index (SSI) to solve your tricky problem.
Users can check the current performance of the light sources by simple parameter judgement and whether it meets your expectation to be more effective for gaffers, directors and photographers. The SSI was proposed by the Science and Technology Council of the Academy of Motion Picture Arts and Sciences. SSI defines the similarity of the "spectra"between the test light and standard light ( Illuminant A, D50,D55,D65). When SSI of both spectra has higher values, two light sources will overlap or become closer to each other ,meaning that the color of the test light source is similar to the standard light source and both light rendering performances are better. SSI is suitable for evaluating cinema and broadcasting lightings, color performance of television, motion picture photography and general lighting.

We used different light sources to compare with the standard Illuminant A. We found out that the spectrum of X light source is similar to the Standard Illuminant A, meaning that X lighting can achieve the effect of Standard Illuminant A whenever we use it.
TM30-15 Evaluating Light Source Color Rendition was proposed by the IES in 2015. It mainly compensates the defect of the light rendering of CRI in saturated light sources which cannot fully present the color perceived ability on human eyes. The main reference indices are Color Vector Graphic, Color Fidelity Index (Rf) and Color Gamut Index (Rg) ,assisting users to have more comprehensive understanding of light color quality.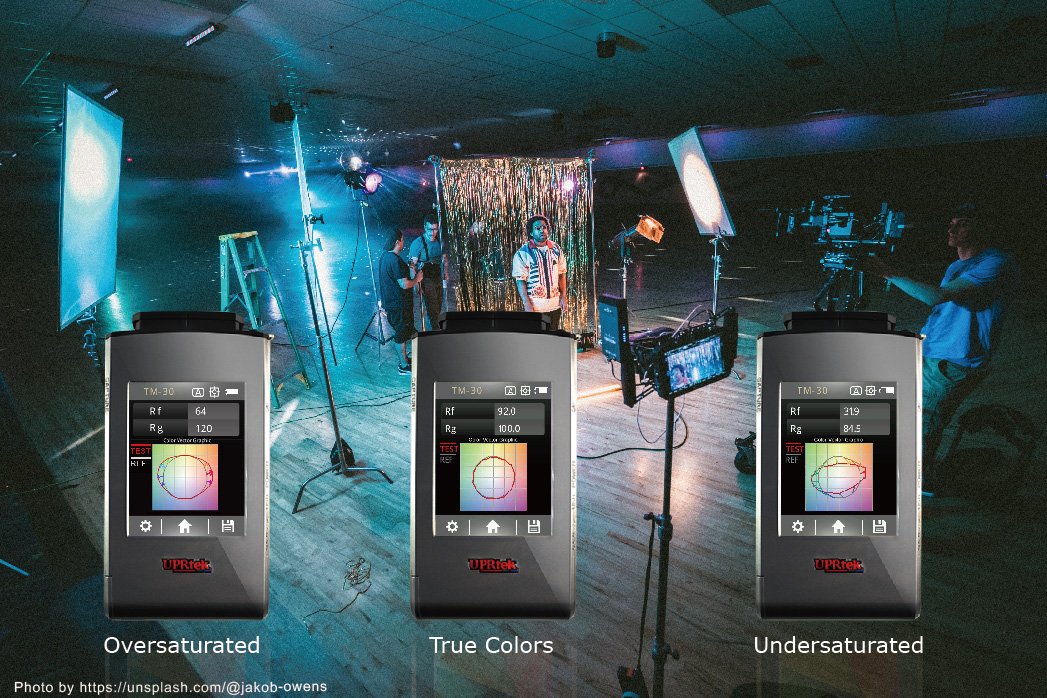 In the past, we thought that the light with higher CRI index, showing the realer color of objects. However, if the scene is in the studio, the image usually have color deviation on the screen. The light source component does not match the color characteristics of the camera's sensor chip. CRI reflects the perception of the color reproduction of the light source by human eyes. TLCI reflects the lighting & color reception and degree of reproduction by camera. Because of that, the EBU ( European Broadcasting Union) proposed the TLCI ( Television Lighting Consistency Index) which can response the camera's reception of lighting & color, color reprocution and lighting environment requirements. CV600 added Television Lighting Color Index (TLCI) to offer a more convenient evaluation methodology for gaffers and photographers.

■TLCI Levels

Television Lighting Matching Factor (TLMF)
TLCI shows a performance of color reproduction from the video cameras or TV monitors. While TLMF aids professionals in comparing different light sources and check how they can match in order to create a more realistic environment. For example, if a videographer wants to create a scene with a sunny background, he can compare two light sources by using TLMF. Using TLMF function in predicting the best environment is more accurate and results in a more realistic surrounding.Providing four kinds of CIE Standard Illuminants (A, D50, D55, D65). Professor Milk Wood said: TLCI is a tool for manufacturers to use in designing a product for television use, then TLMF is a tool for practitioners that allows the prediction of real world mixing and matching of different sources before getting in the studios, when it is often too late to change.(Source: www.mikewoodconsulting.com/articles/Protocol%20Fall%202013%20-%20TLCI.pdf)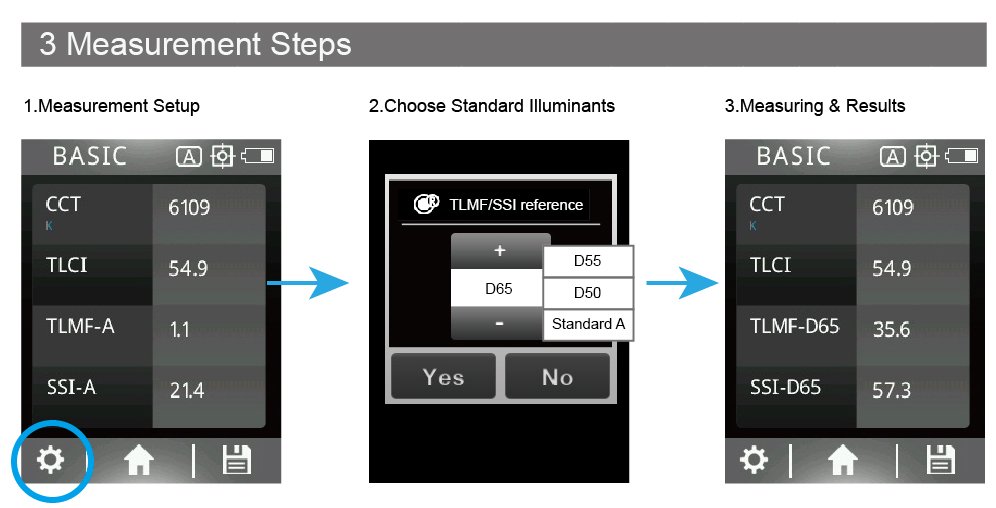 CV600 is a cinematic light meter with an exposure meter. Exposure Value Compensating-Make sure every shoot are always correctly exposed.
Camera is filming in every seconds and Flicker happens!
Post production or reshooting are time consuming task and not always easily repairable. CV600 built-in flicker free function enable the setting between camera frame rate and light source frequency to provide flicker-free shooting.
Frequency Flicker is related to the frequency of the driving voltage. CV 600 is not only measuring flicker for Film and TV equipment, but also adding the indicator of the flicker Risk on human eyes. According to the IEEE PAR 1789 report, human eyes perceptual frequency is below 70 Hz which might induce the physiological hazards physically and psychologically, such as headache, vision loss and epilepsy. However, movie makers and TV producers have strict requirements on Flicker. The safer lighting environment will lead to the best shooting effect and take care of actors'feelings. CV600 is based on the IEEE PAR 1789-2015 Flicker safety regulation and built-in Flicker Risk Figure, improving the instant detection of convenience and accuracy for users.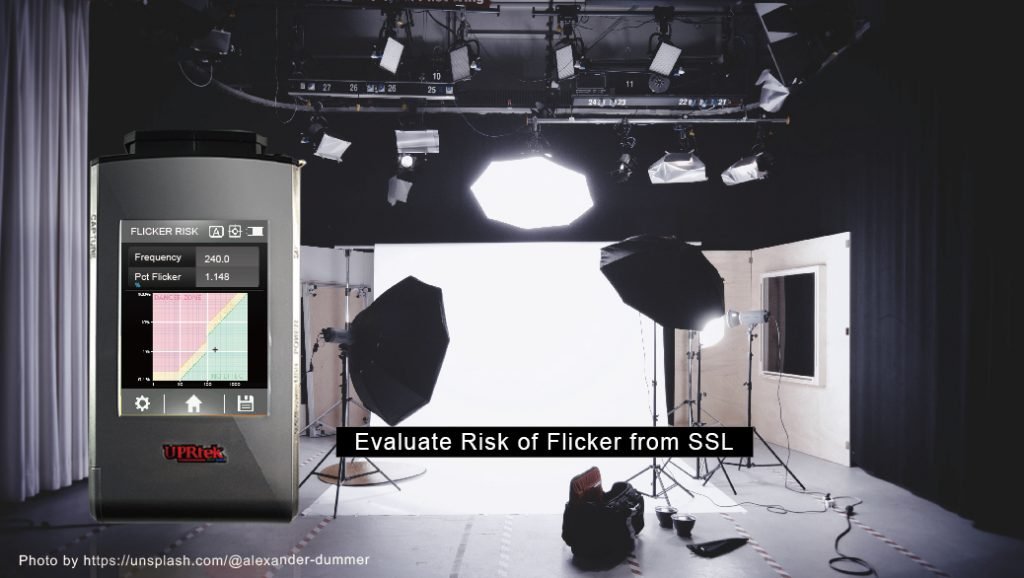 uSpectrum PC Software supports CV600 spectrometer. You can check the accurate measurement of your data directly.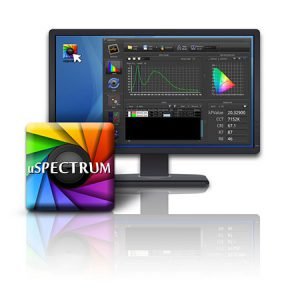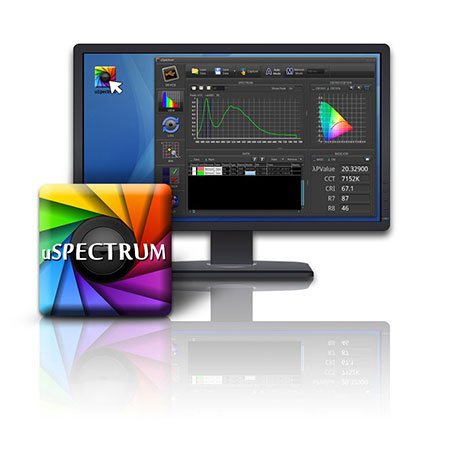 How to measure TLCI – UPRTek CV600 Review
How to Measure Color with the CV600
Testing LED Lights With A Colour Spectrmeter (& Mobile Phone)_EN
Tech Corner – CV600 Digital LED Light Meter
Using A Color Meter: WWII Vet Interview (CV600)
UPRtek CV600 Spectral Colormeter Product Overview
Ikan's CV600 Spectrometer Will Tell You Almost Everything About Your Light Source
UPRtek CV600 Spectral Color Meter (Eng Sub)
【UPRtek Unbox】Wing File Setup – Naming/Search/Delete_EN
【UPRtek Unbox】Wing WiFi Card Connection_EN
【UPRtek Unbox】Tripod Bracket_EN
【UPRtek Unbox】Strap Installation_EN
UPRtek offers Wing Wi-Fi wireless remote control card to work with handheld spectrometer to break through environmental constraints and allow you to measure and share data any time and any where.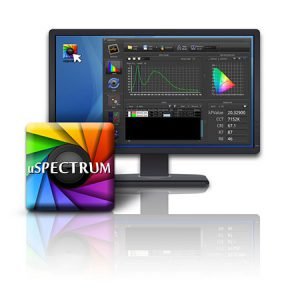 UPRtek design and produce handheld spectrometer not only provides an easier measurement method, but also abundant spectral information which is widely used in optics field. The handheld
UPRtek has extensive experience in mobile APP design and development. Designe the uSpectrum APP for UPRtek handheld spectrometer series. It provides App Store and Google Play the mos
SEND PRODUCTS INQUIRY TO US
To provide with better services, pleaser fill out the form below.
We Need Your Consent
By consenting to this privacy notice you are giving us permission to process your personal data specifically for the purposes identified. Consent is required for us to process your personal data, and your data will not be shared to third parties.