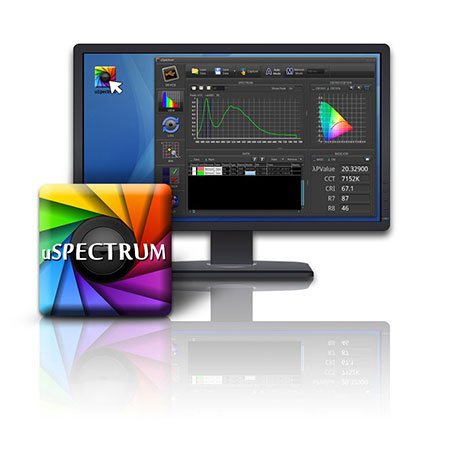 UPRtek uSpectrum PC Software
UPRtek design and produce handheld spectrometer not only provides an easier measurement method, but also abundant spectral information which is widely used in optics field.
The handheld spectrometer is not only integrating with smart device, but it's plentiful measurement data is also helping professional users to have advanced study and research via uSpectrum PC software.
The uSpectrum PC software can access up to 16pcs handheld spectrometers, and then conduct a single connection according to the requirements to increase the efficiency.
uSpectrum VIEW Mode
Including more than 50 measurement units.
Spectrum diagram, CIE color space and CRI chart for further analysis.
Customize your common used data on BASIC window. Simplify what you need.
uSpectrum LOG Mode
A long time measurement monitor
Meet the needs of product design on the different analysis.
uSpectrum BIN Mode
BIN editor has build-in ANSI C78.377 and McAdams Ellipses.
Besides, you may generate your own BIN chart according to what your need.
uSpectrum CHECKER Mode
Setup the acceptance range and control the quality easily especially for lighting manufacture.
uSpectrum PC Software Test Report
Measure and print just in 1 step
SEND PRODUCTS INQUIRY TO US
To provide with better services, pleaser fill out the form below.
We Need Your Consent
By consenting to this privacy notice you are giving us permission to process your personal data specifically for the purposes identified. Consent is required for us to process your personal data, and your data will not be shared to third parties.