VISUAL MERCHANDISING, LED LIGHTING SOLUTIONS-HANDHELD SPECTROMETER
MK350S PREMIUM
Plant Factory,PPFD, PFD, LUX Meter, Screen Protector
UPRtek MK350S Premium Spectrometer
MK350S Premium is a Handheld Spectrometer with Muli-Functions in itself. It's not only a Spectrometer, but also can be a Quantum PAR Meter, Blue light Detector and Oscilloscope. The strong and various functions can make users task quicker and efficiently.
MK350S Premium handheld Spectrometer Keeps the excellent designs and multi-functional user friendly operation mode. Beside, it enhances the abilibty of LUX dynamic range from 100k lx to 150k lx. Auto dark calibration is embedded to reduce the noise interference from each temperature and lighting environment changes. Also, Cosine receiving surface is optimized to conform with both JIS AA and DIN B Illuminance Meter class. Overall, it's the professional instrument with the certificated accuracy and measuring speed.
Light source measuring functions supersede the last generation model (MK350S) with outstanding performance. Users can choose from more than 40 light measurement units (CCT, LUX, CRI, CIE1976, CIE1931,PPFD & PFD, CQS, Duv, LambdaP, S/P ratio, TLCI, GAI and others) to create their customized list. For further analysis and research, we add the health lighting measuring solutions, such as Flicker, Blue Light Hazard (BLH) and Human Centric lighting (HCL) to help users measure light more productively.
■New Indicators of Health Lighting
1- High efficient Flicker Measurement, Frequency Mode (Time domain / Frequency domain) and Flicker Risk (IEEE PAR 1789-2015) Mode
Sampling rate is up to 100k Hz/sec. This doesn't only produce the parameters of Percent Flicker, Flicker Index and SVM, but also measures the light wave and intensity of light source accurately. Moreover, it is based on IEEE PAR 1789-2015 flicker safety regulation and built in point analysis figure which is called Flicker Risk Mode. This service will provide users more intuitive and simpler evaluation of the risk value of the "light source target".
2-BLH (Blue light Hazard) Mode
Due to the increasing popularity of 3C products, long-term use might cause the users eye diseases such as early cataracts and Macular degeneration. There are many anti-blue light products to remind customers the concept of "Prevention is better than cure". How can we check blue light, know the BLH on human eye and its prevention, and the possible exaggeration of results?
Those are yet to be proven by further experiments and studying. MK350S Premium handheld Spectrometer is a muti-functional Lux Meter. Based on the blue light measurement requirement, we adopted IEC 62778 and utilized IEC 62471 for the assessment of BLH light sources and luminaires. It can assist users to prevent the BLH. Blue light wavelength is from 401nm-500nm.
Blue light hazard spectral weighting function: B(λ)
Spetral Radiance: E(λ)
Blue light weighted irradiance (EB) = B(λ) * E(λ)
Blue light hazard efficacy of luminous radiation (Kbv) = EB / Y (Lux)
BLH Risk Group (RG)
Blue Light Hazard-Blue-ray %: The irradiance ratio of blue wavelength (401nm-500nm) for LED. BL% can be applied for museum lighting to avoid the antiquities damages from the blue light.
In addition, users can use Transmit mode to get the anti-blue light value, understand the potential blue light risk level around them, show the HEV (high-energy visible light) efficiently and protect them from possible hazards. This is highly recommended for lighting manufacturers, LCD & OLED display panels, optometrists, eye specialists and others.
3-Human Centric Lighting (HCL)
The MK350S Premium LED Test Meter adds HCL Mode (Human Centric lighting) to help you create a more comfortable and healthier lighting environment based on WELL Building Standard ( V1) and CIE TN 003-2015 Report on the First International Workshop on Circadian & Neurophysiological Photometry.
We can perceive light and color because the retina absorbs the light and converts it into a neural signal which is transmitted signals to our brain for visual imaging and physiological function adjustment. As you can see from the picture below:
(A) The non-image-forming responses of the retina is affected by the ipRGCs (intrinsically photosensitive retinal ganglion cells) which are also influenced by intrinsic melanopsin and the extrinsic signals in Rods and Cones (shown in red, green and blue) that convert the signals to the brain.
(B) The 5 photoreceptors (refer to A) , depending on their photopigments, weighted its different wavelengths with spectral sensitivity and get the illuminance in order to quantify the effect of biological rhythm.
Reference: www.sciencedirect.com/science/article/pii/S0166223613001975#fig0010
Melanopsin is in charge of non-visual function adjustment, such as body clock, the release of melatonin and others. Melatonin is also known as sleep hormone manages human body's biological rhythm. During daytime, it is produced at a lesser quantity to keep humans awake, otherwise, you will feel tired and sleepy. As a result, light intensity and different CCT easily affect circadian rhythm, hormone secretion and external behavior. This is the main reason why light therapy can mediate depression and sleep disorders.
■ Melanopic Lux : A measure of light used to quantify how much a light source will stimulate melanopsin's light response。High Melanopic Lux leads to less melatonin secretion and people will not feel tired easily.
■ Mel Daylight Lux: Simulated CIE D65 Daylight and calculates the most suitable indoor lighting environment to similar the sunlight. If the spatial designers want to create a full spectrum of daylight atmosphere, this value is recommended.
■ S/M/L Cones & R rod (Cyanopic, Chloropic, Erythropic, Rhodopic Lux): Quantify the environmental light source by photoreceptor to analyze its effects on organisms. It is generally used in professional applications such as ophthalmology research.
■ Melanopic ratio :It's about Melanopic lux and Photopic Illumnance. When the melanopic ratio is high, the light intensity inhibits the melanopsin, the melatonin secretion is less, and the people can stay awake easily.
■ The optimal health lighting environment set-up can be calculated based on the EML(Equivalent Melanopic Lux) of the Well Building Standard (V1)
[Formula] EML= L X R
EML=Melanopic Lux
L: Visual Lux
R: Melanopic Ratio
For example, I would like to install LEDs in my office. What is the best illumination(lx)?
According to the Melanopic light intensity for work areas requirement of Well Building Standard, EML should be greater than 200. After using MK350S Premium , it shows that the Melanopic Ratio is 84.29%.
When you simulate or design the spatial lighting, the recommended Lux should be 237lx (200/0.8429)
Reference:WELL Building Standard v1 with 2018 Q4, Addenda
MK350S Premium is designed to meet the needs of all users from RD lighting designers, lighting manufactory, quality control, interior light designers, horticulture measurement, cinematographer to health prevention and so on.Recommended functions shown as below:
Mode 1: LUX Image Distribution
The spatial designers and professionals can use the visual language to explain the light shape, form and lines of objects which are abstract and illustrate the feeling of lighting level and uniformity.
Mode 2: TM30-15 Evaluating Color Rendition
Adopted two indices which are called Rf ( Color Fidelity) and Rg (Color Saturation) to assess the light source.Color Vector Graphic shows the deviation of hue and chroma from test object compare to the standard condition which helps users understand the light color quality comprehensively and compensate the weakness of CRI traditional evaluation source color.
Also, based on the Rf-Rg Plot analysis figure, users will know the sensible relationship between Rf and Rg.
Note: When TM-30 Rf is above 60, TM-30 Rg is between approximately 60-140.
Source: https://www.energystar.gov/sites/default/files/asset/document/3_Michael%20Royer_Shining%20a%20Light_FINAL.pdf
Mode 3- LED BIN rating application mode
Built-in ANSI78.377 and MacAdam Ellipse Additional BIN customized function is also designed to fulfill specialized LED design field.
Mode 4- Measurement Comparison Mode
Users may measure timely and compare the light figures side by side with the previous data.Intuitive UI allows easy data analysis.
Mode 5- Log Mode
Users set up the I-Time, exposure time, interval, counts, monitor the light color change and adjustment it in real time.
Mode 6- Quality Checker Mode
Customize the measuring units and setup the range, you will get the result efficiently → Pass/NG.
The MK350S Premium handheld spectrometer:
No need to connect with PC or mobile phone.
Standalone operation to measure at any time.
Free download Apps for iOS and Android.
WiFi wireless remote control capability with no boundary.
uSpectrum / uFlicker PC softwares would help you analyze data efficiently.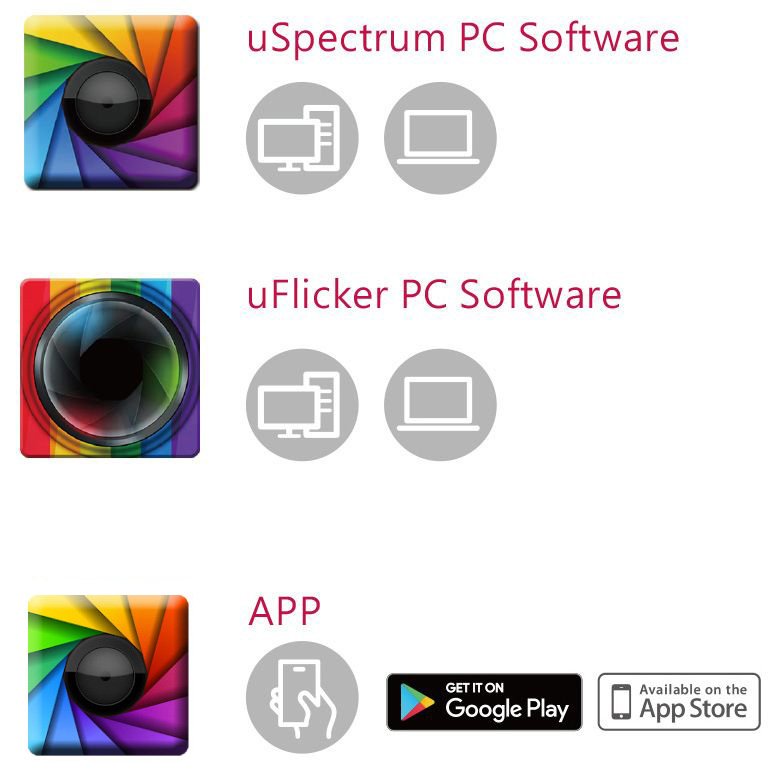 UPRtek MK350S Premium Spectrometer (Eng Sub)
Dragon Image SMPTE 20150714 UPRtek Spectrometer Mobile
【UPRtek Unbox】uSpectrum APP – Main Screen and Tool Introduction_EN
【UPRtek Unbox】Wing File Setup – Naming/Search/Delete_EN
【UPRtek Unbox】Wing WiFi Card Connection_EN
【UPRtek Unbox】MK350S Premium_EN
【UPRtek Unbox】Tripod Bracket_EN
【UPRtek Unbox】Strap Installation_EN
SEND PRODUCTS INQUIRY TO US
To provide with better services, pleaser fill out the form below.
We Need Your Consent
By consenting to this privacy notice you are giving us permission to process your personal data specifically for the purposes identified. Consent is required for us to process your personal data, and your data will not be shared to third parties.