EVENTO ANUAL UPRTEK & KYOKKO 2018
UPRtek and Kyokko Trading Co., Ltd, a famous optical equipment manufacturer from Japan, are partners in promoting MK350 Series handheld Spectrometer and Spectroradiometer. Through various international Trade Shows (B2B) , UPRtek has successfully established its brand awareness, as well as promoted the best spectral type spectrometers and spectroradiometers to different industries, such as LED Manufacturer, Visual Merchandising (VM), Plant Factory, Smart Phone OLED Production Line, Display on AR/VR products and even wearable devices.
"MK350S Premium" Handheld Spectrometer
It is a high-end model of MK350 series of spectrometers with its intelligent appearance with 4.3" color touch screen, users can operate the UI intuitively and customize the light source measurement as a master menu. MK350S Premium combines the Integrating Sphere, Oscilloscope, Photometer and Quantum PAR Meter in one device. The strong and various functions can make users task efficiently done. MK350S Premium embedded the latest Flicker Risk Mode which makes it better than its previous model MK350S Advanced Spectrometer.
(1) IEEE PAR 1789-2015 flicker safety regulation and built in point analysis figure- This service will provide users more objective and simpler evaluation of the risk value of the "light source target".
(2) IEC 62778 Blue Light Hazard Metric-Users can assess the potential blue light hazard through LED BLH Risk Group (RG0, RG1, RG2, RG3) efficiently.
"MK550T" Handheld Spectroradiometer
New Generation Master in Display Test Systems
UPRtek depends on our knowledgeable grating sensing and utilizes optimized measuring capabilities in display to provide the best color brightness measuring solution. MK550T embedded the high level of spectral technology and color matching function to make sure that the spectral sensitivities of x (λ) / y (λ) / z (λ) are comparable to the CIE1931 color matching function. It easily enhances the chroma accuracy and provides measurement results which are closer to the human visual function. Meanwhile, MK550T offers a wide-range of sensor options for various needs. Available Receptor Sizes are Φ 10mm / Φ 5mmΦ 4mm / Φ 3mm.
■About Kyokko Trading Co., Ltd:
With ISO/IEC17025 certified Optical Test and Calibration Laboratory, Kyokko trading is well known and trustworthy leading company at the industry.As a professional solution providers, Kyokko Trading provides industry-standard luminance meters, spectral radiometers, various optical measuring instruments, physics and chemistry equipment, sales of communication equipment, and optical measurement services.
■Exhibition information:
(1)JSAP EXPO Spring
Display Product: MK350S Premium Spectrometer
Date & Time:
■March 17 (Sat.) 12:00 – 18:00
■March 18 (Sun.) & 19 (Mon.) 9:30 – 18:00
■March 20 (Tue.) 9:30 – 15:30
Venue:Pacifico Yokohama 1-1-1 Minato Mirai, Nishi-ku, Yokohama 220-0012, Japan
Booth No.: SP9
Exhibition Website:https://meeting.jsap.or.jp/english/
Exhibitor Website:http://www.kyokko.com/
(2)OPIE'18
Display Product: MK350S Premium Spectrometer
Date & Time: April 25 (Wed.) – 27 (Fri.) 10: 00 – 17: 00
Venue: Tokyo Big Sight West Hall 1・3・4
Booth No.:I-10,12
Exhibition Website:http://www.opie.jp/en/index.php
Exhibitor Website:http://www.kyokko.com/
(3)AUTOMOTIVE ENGINEERING EXPOSITION 2018 YOKOHAMA
Display Product: MK550T Handheld Spectroradiometer
Date & Time:
■May 23(Wed.) & 24(Thu.) 10:00 – 18:00
■May 25(Fri.) 10:00 – 17:00
Venue: Exhibition Hall, Pacifico Yokohama Yokohama, Japan
Booth No.:32
Exhibition Website:http://expo.jsae.or.jp/english/
Exhibitor Website:http://www.kyokko.com/
(4)The 49th Annual Meeting of the Color Science Association of Japan 2018
Display Product: MK350S Premium Spectrometer
Date:Jun 2(Mon.) – 3(Tue.)
Venue: Osaka City University Sugimoto Campus 3-3-138 Sugimoto Sumiyoshi-ku, Osaka-shi, 558-8585 JAPAN
Booth No.:Coming soon
Exhibition Website:http://www.color-science.jp/zenkoku2018/index.html
Exhibitor Website:http://www.kyokko.com/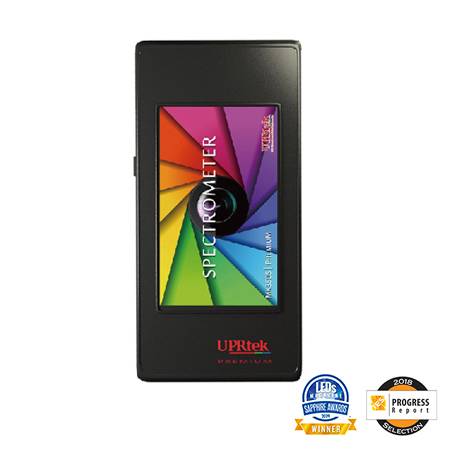 MK350S Premium
MK350S Premium es un espectrómetro de mano con funciones múltiples en sí mismo. No es solo un espectrómetro, sino que también puede ser un medidor PAR cuántico, un detector de luz azul y un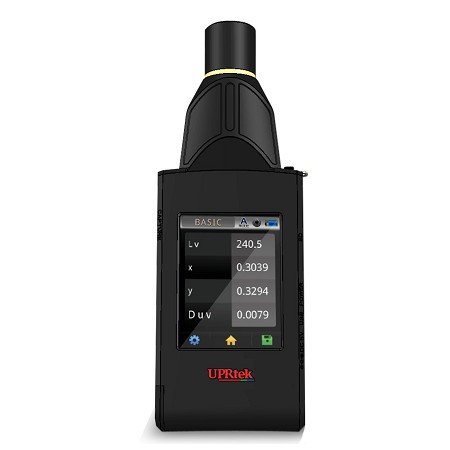 MK550T
El espectrorradiómetro de mano MK550T combina el conocimiento espectral óptico avanzado y la tecnología de procesamiento de señales electrónicas para hacer que todo el sistema de medición
08 Mar 2018
Pruebe y proporcione la solución de prueba y medición de pantalla en color verdaderoEspectrorradiómetro de mano MK550T, espectrorradiómetro de escritorio MD100N ¡ya disponible! Debido al aumento de los dispositivos móviles, el rendimiento de varias pantallas como LCD, LED, OLED y HDR ... se ha...
leer más
16 Jun 2017
uFlicker - El guardián de Flicker Flicker, el asesino invisible de todas las luces, está implicado en desencadenar una serie de problemas relacionados con la salud, como ataques de epilepsia, migrañas, fatiga, rendimiento reducido de tareas visuales, distracción y discapacidad visual ... A medida...
leer más
17 May 2017
El espectrómetro de mano UPRtek con DM de aplicación industrial lo ayuda a comprender rápidamente la orientación del producto Como marca líder de espectrómetro de mano, UPRtek no solo es un fabricante sino también un proveedor. Por lo tanto, no solo nos enfocamos en el desarrollo de productos,...
leer más
SOFTWARE DE ANÁLISIS E INSPECCIÓN DEL ESPECTRÓMETRO | PROVEEDOR DE ESPECTRÓMETROS DE MANO - UPRTEK
UPRtek, desde 2010, es uno de los principales fabricantes de espectrómetros de mano y sus productos están impregnados de una fórmula de practicidad, movilidad, tecnología ecológica e inteligencia. Nuestro espectrómetro de mano es liviano y tiene un diseño intuitivo, los usuarios pueden operar el espectrómetro sin computadoras; Los datos de medición se pueden visualizar y visualizar inmediatamente en el espectrómetro.
La certificación de fábrica del espectrómetro de mano incluye el sistema de gestión de calidad ISO9001 y la aplicación del sistema de gestión ambiental ISO14001 y el sistema de gestión de procesos de materiales peligrosos IECQ QC 080000 HSPM. El informe de progreso IES y el diseño ganador del premio Red Dot, cumple con ISO14001, JIS, DIN y cumple con los estándares IECQ, las soluciones totales de espectrómetro de mano de UPRtek son aplicables a diversas industrias, como software de espectrómetro, tarjeta inalámbrica, medidor LED, probador de luz LED y tarjeta inalámbrica.
UPRtek ha estado ofreciendo a los clientes espectrómetro de alta calidad | Probador de luz LED con una fórmula de practicidad, movilidad, tecnología ecológica e inteligencia. Ambos con tecnología avanzada y 10 años de experiencia, UPRtek asegura que se cumplan las demandas de cada cliente.