CINEMATOGRAPHY LIGHT MEASUREMENT, TV COLOR QUALITY INSPECTION, LIGHT SOURCE AND MOVIE PRODUCTION
Cinema lighting, as most professionals will agree, is one of the most exacting yet subjective aspects of film/video in movies, TV and commercial advertising. Nothing comes easy with lighting – a video shoot for a simple living room scene may have 10 or more lights. These lights may be of different types (e.g. LED, incandescent) and from different brands, with different brightness levels and subtle differences in color. In such a high-pressure working environment, the lighting designer and gaffer are not only thinking how to present a scene with artistic effect, but also need to accord the test results from light meter, exposure meter and even the color temperature meter to test and adjust the light over and over again…UPRtek CV600, the All purpose Professional Cinematic and Photographic Light meter combines all functions with the latest spectral technology, let CV600 face this difficult challenge with you.
New Challenge of Invisible Flicker and Inconsistent Light Color
A professional lighting director Jack Ho who works at TV station told us, he used to setup the shooting scene with incandescent lights, because it provides stable light and no flicker issues. Besides, incandescent light has slightly red makes people looks energetic. However, wasting a lot of energy, shorter lifespan and keep increasing the working environment hot is facing cost issue. The new LED light solved the energy and cost problem, but on the same time leads to another challenge the invisible flicker and inconsistent light color.
High Pressured Working Environment
Imaging, the director may want a warm color environment and vary the brightness with the different lights as they placed into position. There may be additional ambient light from the windows or light reflecting off the white walls that may also affect the environment. In short, it's a lot to tackle, especially when you arrive on site and your setup window is limited in time, let alone all the other activities going on at the same time; actor prep, props, makeup, all needing to be synchronized before the actual commencement of shooting.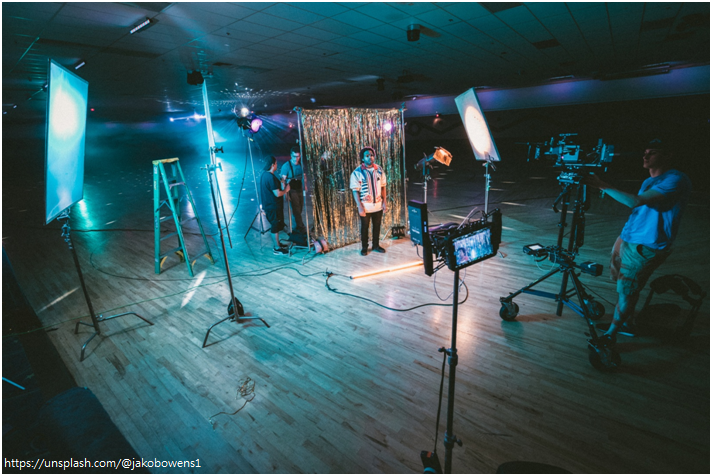 CV600 Handheld Spectral Color Meter – All Purpose Professional Cinematic and Photographic Light Meter
The pressure is on, people are waiting and counting on you to "nail it" with the lighting. UPRtek CV600 handheld spectral color meter – All purpose Professional Cinematic and Photographic Light meter. It is not only a Light meter, but also a Color meter, Cine meter and Exposure meter. A quicker, more efficient measurement solution for cinematographer, videographer, video makers, and film producers, can take the edge off of lighting setup for a scene and how it can significantly boost efficiency and accuracy while engendering complete confidence in the final product.
UPRtek Spectroeter Keeps Up to Date with the Latest Technology
Experts in the film and television industry need to adapt the changes by the new light sources, besides, have to devote time to learning and following up on the new measurement specifications on the road. For example: TM-30-15 which is released in 2015, add Color Fidelity Index (Rf), Color Gamut Score(Rg) and Color Vector Graphic in the light source measurement technology. The TM-30-15 complements the old CRI index and helps lighting designer and gaffer to have a more complete understanding of light color. Furthermore, after the TLCI (Television Lighting Consistency Index) which is commonly used in TV photography, the new TLMF (TV Luminaire Matching Factor) can help experts to match different light for color before a shoot. UPRtek CV600 the All purpose Professional Cinematic and Photographic Light Meter keeps up to date with the latest technology.
CV600
CV600 - All purpose Professional Cinematic and Photographic Light meter. It is not only a Light meter, but also a Color meter, Cine meter and Exposure meter a quicker, more efficient measurements for