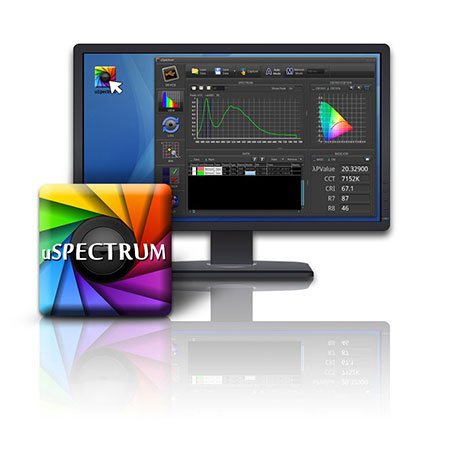 UPRtek uSpectrum PC Software
UPRtek design and produce handheld spectrometer not only provides an easier measurement method, but also abundant spectral information which is widely used in optics field.
The handheld spectrometer is not only integrating with smart device, but it's plentiful measurement data is also helping professional users to have advanced study and research via uSpectrum PC software.
The uSpectrum PC software can access up to 16pcs handheld spectrometers, and then conduct a single connection according to the requirements to increase the efficiency.
uSpectrum VIEW Mode
Including more than 50 measurement units.
Spectrum diagram, CIE color space and CRI chart for further analysis.
Customize your common used data on BASIC window. Simplify what you need.
uSpectrum LOG Mode
A long time measurement monitor
Meet the needs of product design on the different analysis.
uSpectrum BIN Mode
BIN editor has build-in ANSI C78.377 and McAdams Ellipses.
Besides, you may generate your own BIN chart according to what your need.
uSpectrum CHECKER Mode
Setup the acceptance range and control the quality easily especially for lighting manufacture.
uSpectrum PC Software Test Report
Measure and print just in 1 step
SEND PRODUCTS INQUIRY TO US
To provide with better services, pleaser fill out the form below.
We Need Your Consent
By consenting to this privacy notice you are giving us permission to process your personal data specifically for the purposes identified. Consent is required for us to process your personal data, and your data will not be shared to third parties.
SPECTROMETER INSPECTION AND ANALYSIS SOFTWARE | HANDHELD SPECTROMETER SUPPLIER - UPRTEK
UPRtek, since 2010, is one of the prime handheld spectrometer manufacturers and their products are infused with a formula of practicality, mobility, green technology and intelligence. Our handheld spectrometer is lightweight and intuitively designed, users can operate the spectrometer without computers; measurement data can be displayed and viewed immediately on the spectrometer.
Handheld spectrometer's factory certification includes ISO9001 quality management system, and applying ISO14001 environmental management system and IECQ QC 080000 HSPM hazardous materials process management system. IES Progress Report and Red Dot award winning design, conforms to ISO14001, JIS, DIN and meets IECQ standards, UPRtek's handheld spectrometer total solutions are applicable to various industries such as spectrometer software, wireless card, LED meter, LED light tester and wireless card.
UPRtek has been offering customers high quality spectrometer | LED light tester that are infused with a formula of practicality, mobility, green technology and intelligence. Both with advanced technology and 10 years of experience, UPRtek ensures each customer's demands are met. 
View our quality products Handheld Light Meters, Flicker Meter, Color Meter, Compact Spectrometer, Advanced Spectrometer, Spectral PAR Meter, Wireless Control Card, Mobile Spectrum APP, PC Software and feel free to Contact Us.