Is my handheld spectrometer compatible with uFlicker PC software?
Product Software
uFlicker PC Software is a professional Flicker analysis software, it allows you to process large data analysis and measure almost 20 Flicker parameters , its flexible design with variety options is going to help you to fight flicker.
Please refer below compatibility list for uFlicker PC software. You can also find more information at relative product below.
uFlicker PC Software Compatibility List
| | |
| --- | --- |
| Model | UFlicker |
| MK350S | X |
| MK350S Premium | V |
| MK350N | X |
| MK350N Plus | X |
| MK350N Premium | V |
| MK350D | X |
| PG100N | X |
| MF250N | X |
| CV600 | X |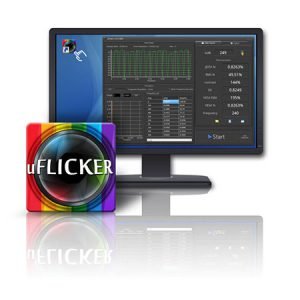 Flicker, the invisible killer of all lights, being implicated in triggering a host of health related issues such as epilepsy attacks, migraines, fatigue, reduced visual task performance, distraction and visual impairment.
SPECTROMETER INSPECTION AND ANALYSIS SOFTWARE | HANDHELD SPECTROMETER SUPPLIER - UPRTEK
UPRtek, since 2010, is one of the prime handheld spectrometer manufacturers and their products are infused with a formula of practicality, mobility, green technology and intelligence. Our handheld spectrometer is lightweight and intuitively designed, users can operate the spectrometer without computers; measurement data can be displayed and viewed immediately on the spectrometer.
Handheld spectrometer's factory certification includes ISO9001 quality management system, and applying ISO14001 environmental management system and IECQ QC 080000 HSPM hazardous materials process management system. IES Progress Report and Red Dot award winning design, conforms to ISO14001, JIS, DIN and meets IECQ standards, UPRtek's handheld spectrometer total solutions are applicable to various industries such as spectrometer software, wireless card, LED meter, LED light tester and wireless card.
UPRtek has been offering customers high quality spectrometer | LED light tester that are infused with a formula of practicality, mobility, green technology and intelligence. Both with advanced technology and 10 years of experience, UPRtek ensures each customer's demands are met. 
View our quality products Handheld Light Meters, Flicker Meter, Color Meter, Compact Spectrometer, Advanced Spectrometer, Spectral PAR Meter, Wireless Control Card, Mobile Spectrum APP, PC Software and feel free to Contact Us.