Is my handheld spectrometer compatible with uSpectrum PC software?
Product Software
uSpectrum PC Software is a professional Spectrum analysis software, it allows you to process large data analysis and measure more than 50 lighting measurement units. Besides measuring, users may generate own BIN chart, customized lighting quality range for production line and print out a lighting report with company logos. uSpectrum PC software is a powerful tool for lighting industrial.
Please refer below compatibility list for uSpectrum PC software. You can also find more information at relative product below.
uSpectrum PC Software Compatibility List
| | |
| --- | --- |
| Model | USpectrum |
| MK350S | V |
| MK350S Premium | V |
| MK350N | V |
| MK350N Plus | V |
| MK350N Premium | V |
| MK350D | V |
| PG100N | V |
| MF250N | X |
| CV600 | Read Only |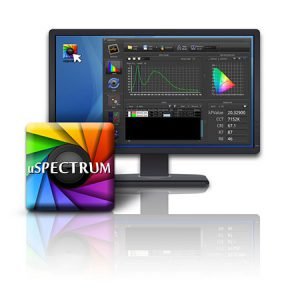 UPRtek design and produce handheld spectrometer not only provides an easier measurement method, but also abundant spectral information which is widely used in optics field. The handheld