What is Cosine Correction?
Tech Notes
Cosine is a mathematical function used to calculate and specify the characteristics (length & angles) of triangles (Trigonometry). Below right picture is the cosine correction comparison between MK350S Premium and Lambert's Cosine Law. The ideal value of the red circle was described by Johann Hein¬rich Lambert in 1760 and is called "Lambert's Cosine Law". Basically it shows how light intensity changes as the angle of the light changes. MK350S Premium cosine receiver is the blue circle; the optimized cosine and Lambert's cosine law are almost overlapped. It is more in line with international standards for illuminance measurement – JIS AA and DIN B standards and reduced measurement errors effectively.

Cosine Correction and LUX Measurement
Cosine correction is associated with measuring illuminance, or how much light brightens a certain area – it is measured in LUX which is lumens per sq. meter. A lumen is a unit of mea-sure that represents an "amount" of visible light. As you can see on the picture below, the yellow area is the total amount of the visible light which is emitted by the bulb; the visible light received in the orange 1 sq. meter area is called LUX.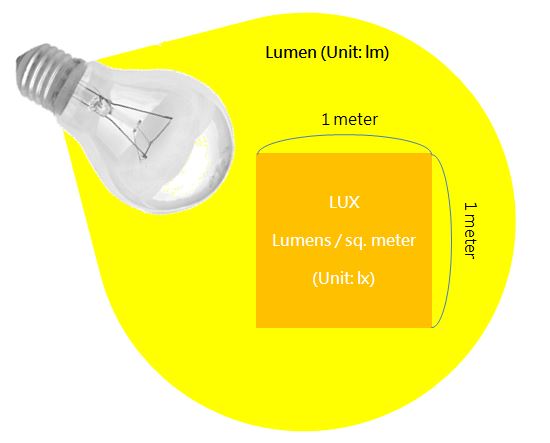 LUX measurement at Different Angles
Next, you must know that light coming in at an angle will influence the LUX. A light shining from directly above (below left picture LUX: 476 lx) will shine brighter than a light coming in at an oblique angle (below right picture LUX: 449 lx). In fact there is a direct correlation between the angle of the light and amount of brightness – this was explained by Johann Heinrich Lambert in 1760.

UPRtek Spectrometer meets CIE Standard of Cosine Correction for LUX Meter
Measuring light intensity on a flat light meter lens is not so straight forward, especially when trying to measure light coming in at angles and then accurately recording the brightness according to the Lambert's laws – you need to make adjustments. These adjustments are called Cosine Correction. The UPRtek produced spectrometer conform the cosine correction of the CIE standard for LUX Meter in terms of LUX measurement, that is to say, UPRtek spectrometer meets the characteristics of the LUX Meter. The actual LUX value of the light source (light intensity) come from different angles should be Eθ = E0 Χ cos(θ). E0 is the original LUX value. Below chart is a guide to measuring brightness according to Lambert's laws.
Cosine Correction for Oblique Angle Light
Ideally, Cosine Correction for oblique (angular) light should follow the graph shown above. For example, a light meter received lights coming in at 60 degrees; it should result in about 50% of its original intensity. As the angle becomes less oblique, the intensity should increase according the circular red line in the graph above.